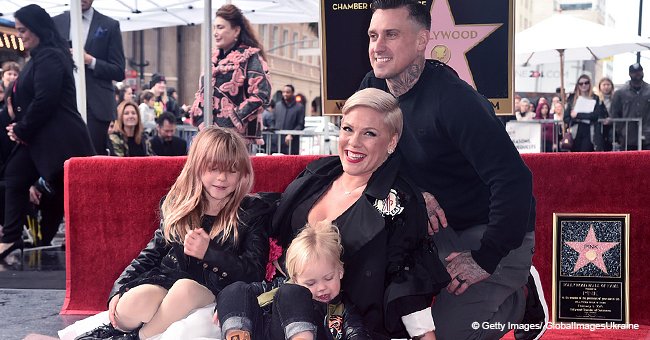 Pink Clapped Back Hard at a Hater Who Attacked a Family Photo of Her Children and Husband
Pink's feisty side came out when a fan posted a negative comment on a recent family photo she posted on Instagram.
Currently on her "Beautiful Trauma" tour, Pink's schedules are tight, but she always makes time to spend with her family.
On Friday the iconic singer posted a picture of the family eating together, as a caption she shared that they as a family "shut the door to the outside world and have family dinner" at least twice a week.
However, one fan posted an ill-received comment that didn't go unnoticed as Pink soon brought down the hammer on his negative comment that read, "except it's posted on ig." In response to the fan's comment and anyone that agreed Pink replied:
"Yes I like to promote healthy stuff," she replied. "I also like to remind people to stop being TOTAL ***** BAGS TOO. Consider this your reminder, ****."
The fan just dug a deeper hole for himself when he replied:
"I was coming to see ya Sunday night in Nashville....still love the music."
Not phased in the slightest Pink made it clear she won't change her mind about reacting to such posts for the sake of a ticket sale as her final remark put a stop to the fan's comments as she wrote:
"That doesn't change my answer. That just makes you confused."
While on tour, apart from making time to eat together, Pink grabs all the time she can to spend with her kids.
On March 2 Pink shared an adorable picture of her with her two kids right before her first show on the North American leg of her tour. All dressed up and ready to get started the picture shows Pink laying next to 2-year-old Jameson, and 7-year-old Willow on the carpeted floor:
Pink's "Beautiful Trauma" tour will circle cities in Canada and the United States until June and include Toronto, Boston, Chicago, Cleveland, New York City, and Philadelphia.
Before starting with the Australian leg of her tour, Pink will take a month-long break to recharge and get organized. Perhaps Pink might take extra care in not getting sick this time. It will be the singer's second time visiting Australia during her "Beautiful Trauma" tour.
During her previous visit to Australia in August last year, Pink got hospitalized, and her shows had to be rescheduled. However, it didn't take paparazzi long to spin their narrative.
In response, Pink posted a long post as an explanation to her fans who she thought had the right to hear her side of the story.
Please fill in your e-mail so we can share with you our top stories!