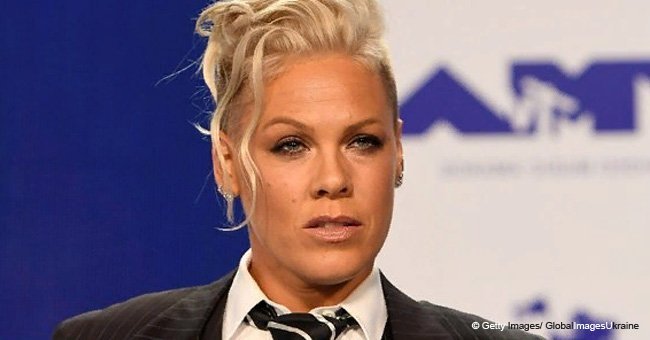 Pink hospitalized, second show canceled
The American singer, songwriter, dancer, and actress has been hospitalized for severe dehydration from a gastric virus. Her illness has forced the cancellation of one of her shows.
Pink is currently on her Beautiful Trauma tour down in Australia, but became ill over the weekend. She battled through a concert on Saturday night, but on Sunday was admitted to hospital in Sydney severely dehydrated.
She was treated for the dehydration and discharged, but on Monday afternoon she was readmitted just hours before her show, and diagnosed with a gastric virus.
Live Nation Australia & New Zealand, the producer of Pink's tour, took to Twitter to share the news of her hospitalization, confirming that she will be kept over night for treatment and recovery.
It's not the first time Pink has gotten sick on this tour, and her two children, 7-year-old Willow and 1-year-old Jameson, have also fallen ill during her tour.
Pink pushed through her first bout of illness, but was unable to push through the second, forcing her to take medical advice to cancel her first show in Sydney on Friday.
Both Friday's show and her Monday show are expected to be rescheduled at a later date.
According to People Magazine, the singer cited an upper respiratory tract infection as the culprit on Friday as the reason she would be unable to perform.
Meanwhile, the paparazzi photographed her on the beach with her children, with a snide comment about her cancelling her show to lounge around on the sand.
The singer took to her Instagram account to defend herself, reminding her fans that she very rarely canceled shows, and that she had had to visit doctors twice in two days preceeding the Friday show.
"I scheduled this tour meticulously, trying to do what was best for my children, while also putting on the best and most physically demanding and beautiful show of my life. This break in Byron has been scheduled since 2017, as a way to get outside the hotel and the winter and have some time with my children. I've already been sick twice (kids as well)on this Australian tour, but the first time we got sick, I was able to push through. This time, what these parasite paparazzi don't show you, is two doctor visits in Byron on two consecutive days, antibiotics, steroids, Vick's, nose spray, throat spray, more steroids, NyQuil, a screaming baby in the middle of the night, every night, while mama gives him warm baths and tells her daughter everything is fine. You can think whatever you want, it's your right, but I have never taken advantage of any one in my entire life," she wrote as part of her caption.
Hopefully she is able to recover from this latest illness quickly so that she can continue doing what she does best for her loyal fans.
Please fill in your e-mail so we can share with you our top stories!