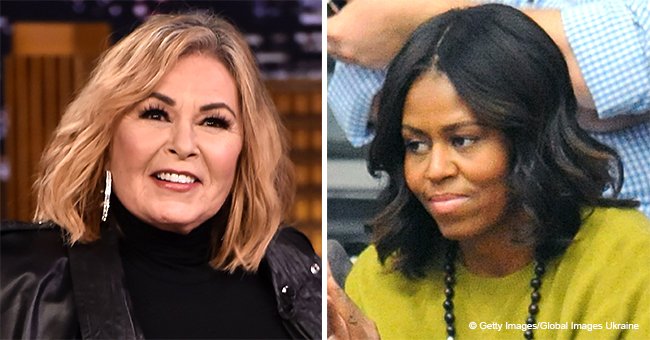 Roseanne Barr Blames Michelle Obama for Getting Fired, Calls Donald Trump a 'Genius'

Roseanne Barr made a bold claim against Michelle Obama who she believes was instrumental in shutting down her career. The comedian says a tweet of the former First Lady led to her termination from her show last year.
Roseanne Barr has come out of her reclusive shell to flatly accuse Michelle Obama of having her fired from her show.
Barr made the shocking accusation during her recent interview with The Sun where she recounted the events that transpired before she was killed off from her show.
Back in May, the comedian was famously written off her rebooted show, "Roseanne" after she released a series of tweets slamming Barack Obama's aide Valerie Jarrett. She joked about the presidential staffer being a product of the Muslim Brotherhood and the "Planet of the Apes."
Her tweet gained negative mileage with many accusing her of being racist and Islamophobic, which prompted her to issue an apology and blame her actions on medication and the consequences on her support of President Donald Trump.
But the harm was done and there was no turning back from there. Soon, producers canceled the series and resurrected it via its spin-off, "The Conners" where Barr was no longer part of the cast. She was killed off at the start of the season.
"...the woman who fired me is now working with the Obamas at Netflix."
Today the aggrieved actress claims that unfortunate event was the former first lady's doing. She said Obama sealed her fate when she tweeted about Barr's Jarrett swipe.
"She said, 'This tweet is unforgivable.' That's what I was told and I tend to believe it because the woman who fired me is now working with the Obamas at Netflix," she boldly said.
The woman Barr is referring to is believed to be former ABC Entertainment president Channing Dungey who now oversees programming in Netflix including projects under the Obamas' Higher Ground Productions.
It was reported last year that the former first couple tied up with Netflix to produce a diverse range of content featuring inspiring stories. Now Barr thinks this deal paved the way for her exclusion from television.
Barr first got wind of the notion in late May 2018 when she retweeted a fan's theory that the Obamas were responsible for her termination. "Is it true?" she added to the tweet.
Now it seems she found a reason to believe the theory is true.
Amid all the drama that transpired then, Barr affixed her signature on a settlement with ABC that allowed the network to kill her off her show and give rise to "The Conners." She said then that she did that to protect the jobs of her show's cast and crew.
However, she changed her stand during her recent interview when she slammed the network for stealing her show from her.
"They think because they killed me it's OK to use me, use the memory of me. Still mention me. It's still my show, but they stole it. They are going to do it to other comics. I'm just the first."
Barr's latest controversial statements come in the heels of another headline-grabbing interview she did on The Candace Owens Show. In the notorious sit-down, the 66-year-old referred to those who perpetrated the #MeToo movement as "h***." She blamed these women for what happened to them because they allowed it.
"They were h***; if you don't run out of the room and go 'excuse me you don't talk to me [like that], you don't do that to me, excuse me' and leave… but you stayed around because you are like, 'well, I thought maybe he was gonna give me a writing job', well you ain't nothing but a h**."
Barr is clearly back in fighting form hogging the limelight once again with her controversial barbs.
Please fill in your e-mail so we can share with you our top stories!