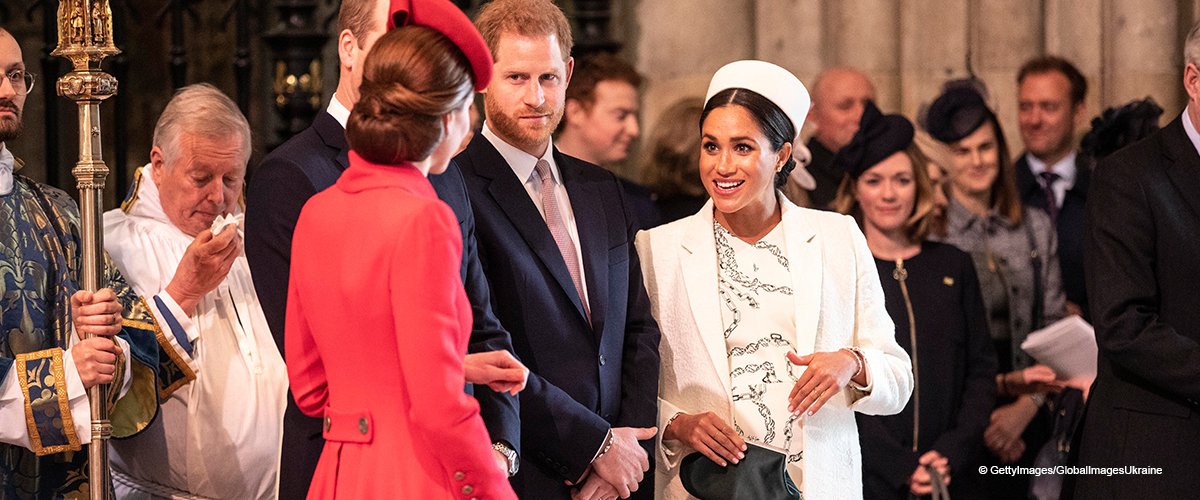 Kate Middleton Greets Meghan Markle with a Warm Kiss Amid Previous Rumors of Their Rift
The Duchesses of Cambridge and Sussex show surprising closeness with one another during their second public outing since the Christmas Day.
Kate Middleton and Meghan Markle were alongside the rest of the Royal Family, including Her Majesty the Queen, while attending the Commonwealth Day service at Westminster Abbey.
The two gorgeous Duchesses demonstrated sweet affection for one another by greeting each other with a kiss on both cheeks. Following this, they extended the same greeting to their respective brothers-in-law as well.
Their display of warmness for one another has come amid increasing rumors about a rift between the two sisters-in-law.
According to Daily Mail, Markle and Prince Harry were the first to arrive at the event. Soon after, Prince William and Duchess Middleton also arrived at the venue.
Both the Duchesses looked absolutely regal in their classy and glamorous dresses.
While Markle donned a cream Victoria Beckham dress which boasted locks and chains pattern, Middleton sported a bright red knee-length button down coat. The Duchess of Cambridge further complemented her dress with beige heels and a Gina Foster hat.
Earlier that day, Markle wore a strikingly different Erdem wool dress and coat during her visit to Canada House in London alongside Prince Harry. Both her dresses that day were estimated to be around $10,000 each by the source.
Markle and Harry's earlier royal visit was also a part of celebrating Commonwealth Day. The Sussexs visited Canada House to celebrate the diverse community of young Canadians living in London and other various parts of the UK.
Meanwhile, the mother-in-law of the two Duchesses, Queen Elizabeth, was also not too far behind in terms of turning heads with her classy choice of outfit.
The Queen looked graceful as ever in her purple dress and a dazzling silver jeweled brooch.
Besides flaunting a regal appearance, the Queen also fulfilled her royal duty during the event by delivering a special written message to the member states of the Commonwealth, which represents 53 countries and almost 2.4 billion people.
Please fill in your e-mail so we can share with you our top stories!