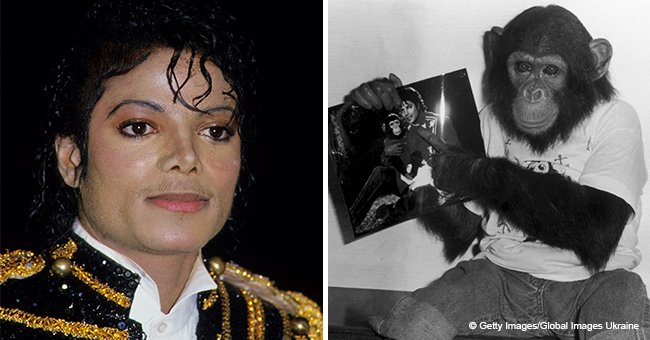 Sad Story behind Michael Jackson's Chimp Bubbles Who Is Now 34

The chimpanzee, Bubbles, owned by King of Pop, Michael Jackson, has surfaced and the 34-year-old is all greyed and living in a Florida home for apes — Centre for Great Apes.
Contrary to the general misconception that the retired superstar chimp was dead, he is alive and living a seemingly normal life in sharp contrast to the life he had with the King of Pop.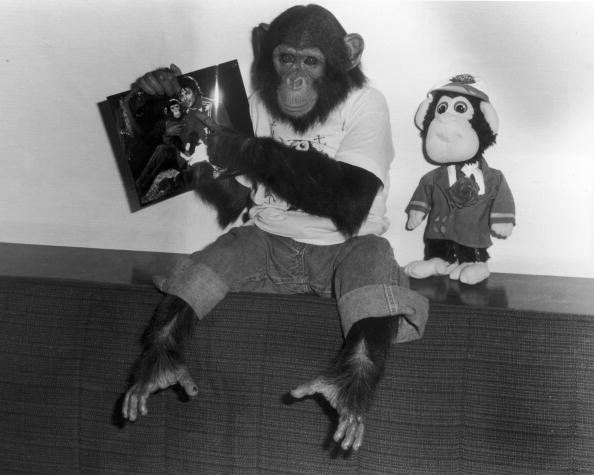 Bubbles the Chimpazee | Photo: Getty Images
He moved into the Jackson family house in California and dived straight into the showbiz business.
Bubbles was four years old when he appeared in the pop star's music video for his hit single, "Leave Me Alone." He also had access to the studio recording of the King of Pop's album —Bad.
Back then the chimp was always dressed in identical costumes with Michael Jackson and traveled worldwide with him on his tours.
Bubbles had the luxury of a personal nanny and slept beside Michael Jackson on his bed. It's back to reality for the chimp, according to the founder of his new home, Patti Ragan:
"he is now just a normal chimp."
The 34-year-old chimp is the dominant male in a group of seven chimps; he has a best friend, Ripley, they both groom each other and are partners in crime.
His diet is vegetables and fruits, his favorite fruits are mangoes, and he sleeps on a bed of pine needles and hay at night.
Ragan acknowledged that the primate enjoys the company of the other chimpanzees and loves playing with water, sometimes he playfully spits water at visitors.
But his favorite way to pass time is painting, in 2017 he sold three paintings at an art gallery in Miami. It came as a shock to most people that the famous chimp was still alive. The paintings were worth a total of £3,000.
Surprisingly, the fairytale rich Michael Jackson did not give any money as upkeep allowance for Bubbles after he abandoned the chimp.
In the aftermath of the singer's death in 2009, the pop stars multi-million dollar estate has supported the chimp, but they still have to source for funds to take care of him.
Although the late singer treated Bubbles like a son, there have been not so good rumors, suggesting that MJ was physically abusing the chimp. Jane Goodall, a renowned British primatologist visited Neverland and said Bubbles was being beaten, she never accused Michael Jackson of doing it though.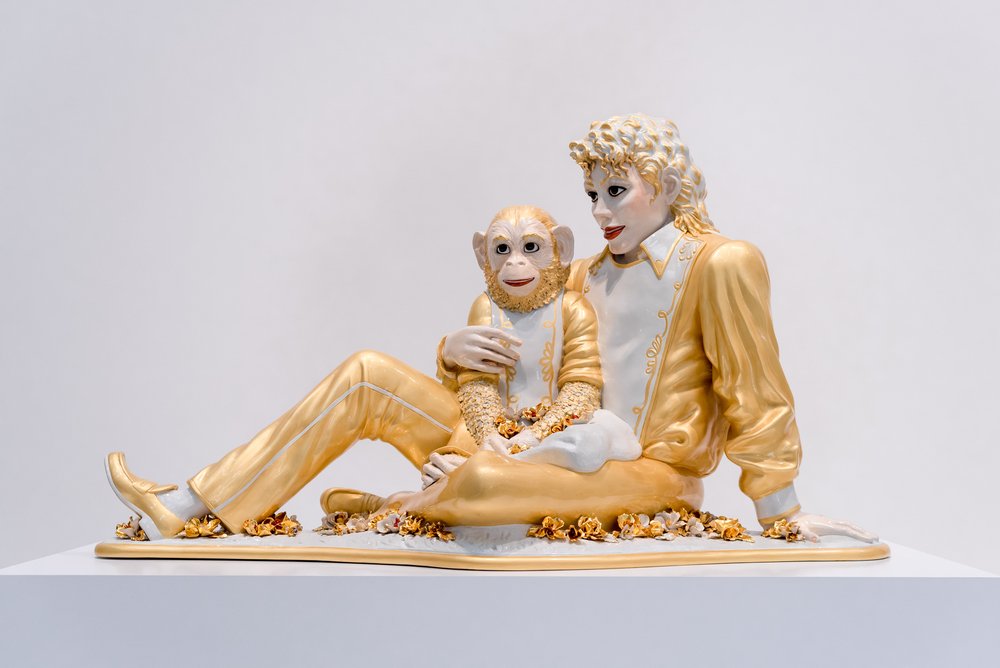 Michael Jackson and Bubbles' Sculpture | Photo: Shutterstock
Its hard to believe that the King of Pop assaulted his best friend, the connection between them was so strong that it is alleged that Bubbles hurt himself when he heard of Jackson's death.
Ragan has denied this allegation, admitting that they have not informed him of MJ's death and even if they did he would not understand.
Bubbles was born in 1983 in a bio-medical lab in Texas and sold to MJ after eight months.
Please fill in your e-mail so we can share with you our top stories!