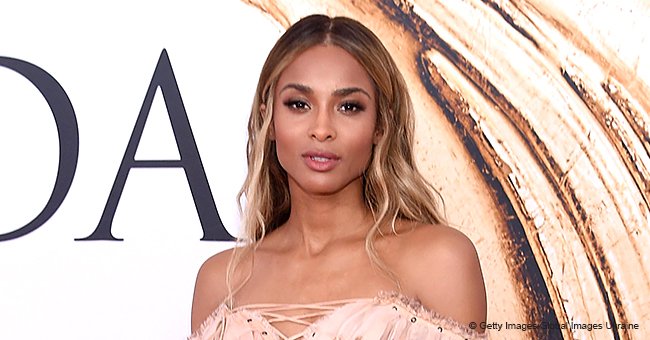 Ciara Heavily Blasted for Donning 'Demonic' Horns and Wings as a Christian in New Video

Ciara is facing backlash on social media for wearing "demonic" horns and giant wings in a recent video shared to Instagram. Most fans seem to have a problem with the singer wearing an outfit they believe contradicts her Christian faith.
In the short clip Ciara posted to Instagram on March 9, she is seen striking alluring poses on the beachfront.
The main outfit for the shoot is a revealing, black one-piece, but the objects of controversy are the accessories: a pair of giant wings and matching horns.
The same month, Ciara and Russell came under fire again
Ciara revealed in the caption that the ensemble is for a "Vogue Brasil" photoshoot, but many social media users did not take it so lightly.
The "Level Up" singer and her NFL player hubby Russell Wilson identify as Christians, and according to several comments, it was inappropriate for Ciara to don an outfit they consider "demonic."
"What kind of demon are u working with here?" ~@ibarneey
"Looks demonic but okay" ~@sheezsofab
"I love you don't get me wrong but why you dress like a devil child?" ~@husanimommy
"…We shouldn't turn a blind eye and call it "art", that's how the enemy deceives. I appreciate your comment... however we always have to be covered with the full armor of God. Ciara is blessed, and sure thing the enemy will try penetrate her life and distort it. It's with love that we discern and plead the blood of Jesus over her. And it's okay if you don't recognize/see that. Others do, therefore will pray." ~@themncwabe1
Judging by her silence, however, Ciara probably remains unperturbed about the criticism. At the time, she and Russell were in Brazil to celebrate Carnival and had the most fun dressing up in elaborate costumes.
The couple, who tied the knot in 2016, is also no stranger to getting criticized online, and they most likely developed a thick skin by now.
Last October, it was Russell who drew the anger of netizens for posting a "Guys Night" video with Ciara's four-year-old son, Future Jr. Future is the singer's child with her ex-fiancé, rapper Future, and online trolls seemed to have a problem with Russell hanging out with the boy.
The same month, Ciara and Russell came under fire again, this time for dressing their one-year-old daughter Sienna, like a boy.
On both occasions, the couple chose not to respond to the negative remarks, and it's only safe to assume they'll be taking the same route this time as well.
Please fill in your e-mail so we can share with you our top stories!