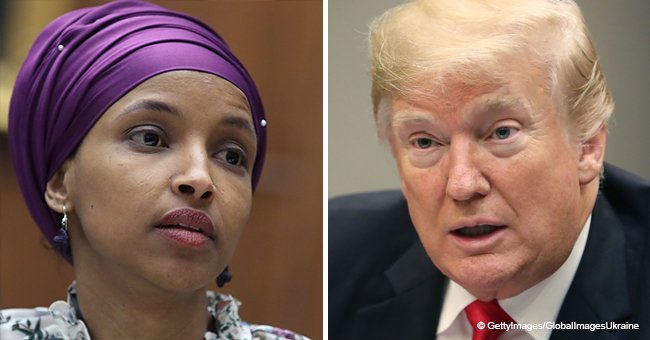 Congresswoman Ilhan Omar Claims Trump Is Not 'Human' While Comparing Him to Obama
Freshman Rep. Ilhan Omar recently said that there is no possible comparison between Donald Trump and Barack Obama because one is human and the other isn't.
The controversial comments were made after Omar claimed that the Obama administration was responsible for putting children in cages at the U.S.-Mexico border.
Omar also said that the same administration was responsible for the "droning of the countries around the world" and that even Democratic leaders have not conducted themselves properly.
FIRING AT ALL SIDES
According to the freshman Rep, the American people can't be only upset with Trump and the way he presents his politics because those who came before him weren't good either.
"His policies are bad, but many of the people who came before him also had really bad policies. They just were more polished than he was."
Ilhan Omar, Fox News, March 11, 2019
A FALSE ACCUSATION
After her controversial words, Omar took to her official Twitter account to accuse Tim Alberta, a Politico reporter, of distorting her words, adding a recording of her interview.
Alberta, however, wasn't intimidated and quickly fired back by issuing a tweet saying that her recording of the interview supported everything he had written, and so did the longest tape in his possession.
PIRRO'S RELENTLESS ATTACK
Following the reporter's response, Omar quickly deleted her tweet without further addressing the issue. But although she didn't have her words distorted by Alberta, Omar was the target of Jeanine Pirro's rant.
The Fox News host addressed Omar during her show, "Justice w/Judge Jeanine," and used the congresswoman's hijab as the main point of her argument.
"Think about it: Omar wears a hijab. Is her adherence to this Islamic doctrine indicative of her adherence to Sharia law, which in itself is antithetical to the United States Constitution?"
Jeanine Pirro, Fox News/RPA Politics, March 10, 2019
Later that day, Fox News was forced to issue an apology, stating that Pirro's comments did not reflect those of the network and that they had addressed the issue directly with the host.
Please fill in your e-mail so we can share with you our top stories!