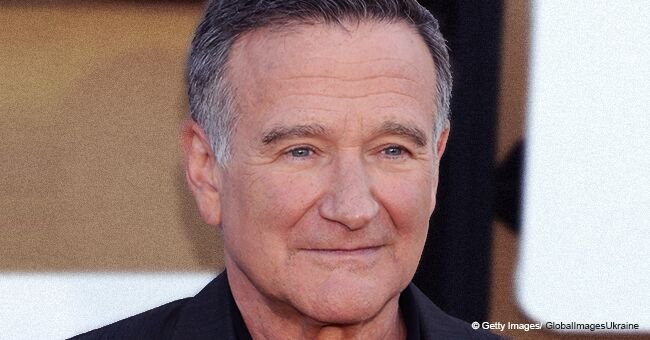 Iconic Video of Robin Williams Kneeling Proved How Patriotic and Respectful He Was to Our Flag
In 2017, CNS News revisited the late artist's appearance in the 1982 television special "I Love Liberty," reflecting on the points made by William's "American Flag" about how to express respect for the Old Glory.
In the two-hour TV special, a then 31-year-old Robin Williams performed a monologue written by Norman Lear from the People for the American Way organization, aired in commemoration of George Washington's 250th anniversary.
For the stand-up routine recorded in front of a live audience, the late actor and comedian dressed up as the American Flag, a character that he channeled brilliantly with his characteristic delivery.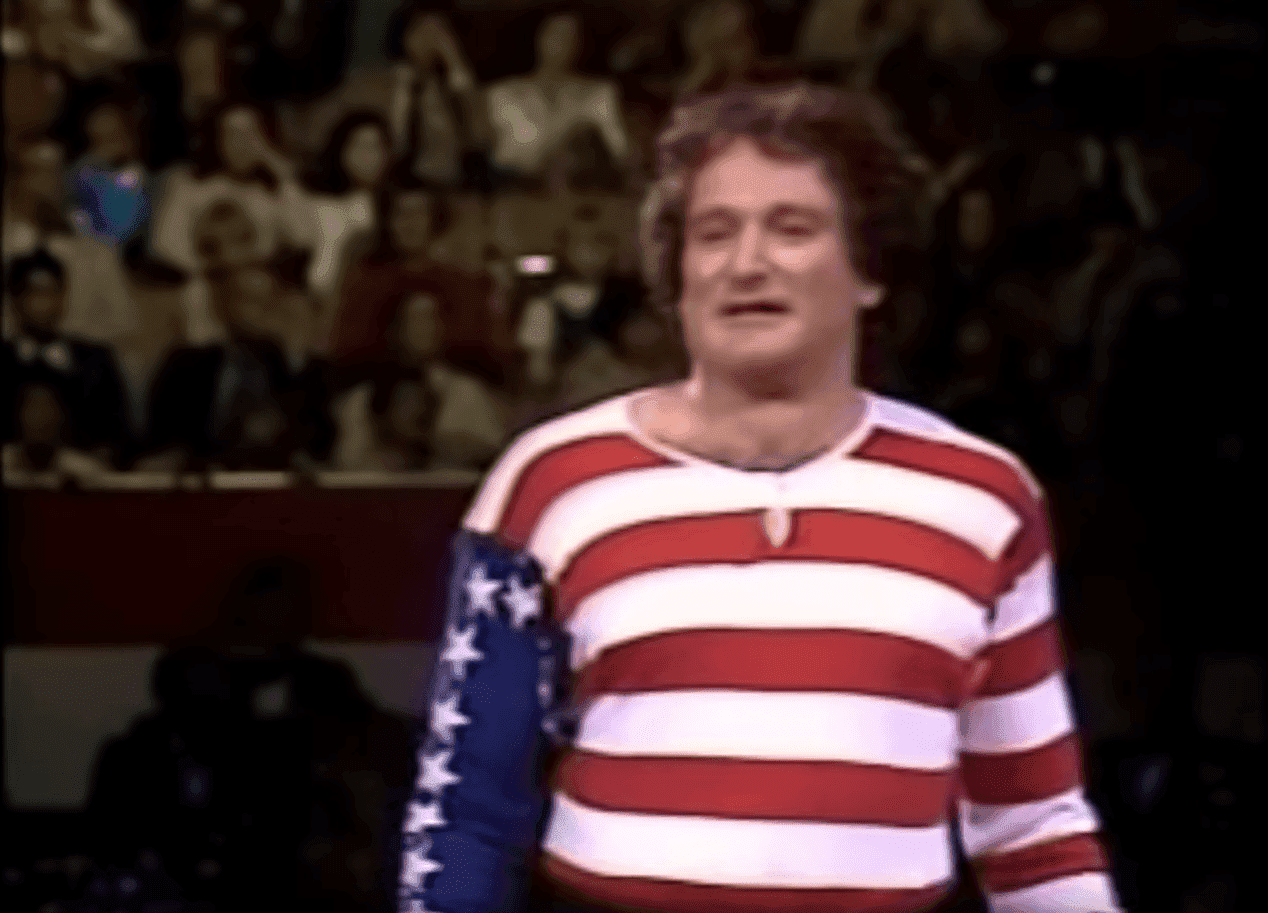 Robin Williams as the American Flag. I Image: YouTube/ PAFWdotorg.
Always the genius in characterization and making voices, Williams played different aspects or "personalities" of the complex character he was portraying.
But the politically conservative news outlet focused in a particular moment of the act on which Williams cites different positions to assume in front of the flag, including kneeling.
CNS News author Craig Bannister related this to the "take a knee" protests started by NFL player Colin Kaepernick in 2016 to bring attention to the treatment of minorities in the U.S.
"You see me in all sorts of postures. When I'm like this (standing proudly), that means everything's okay. When I'm upside down, well, then put on your 'Mae West' and hit the deck. But, when I'm like this (kneeling), well, that's not my favorite position, because, well, that's half-mast."
-Robin Williams, "I Love Liberty," December 1982.
Despite the TV program being the target of much criticism by right-wing conservatives at the time of its release, the position of the sector on it has changed.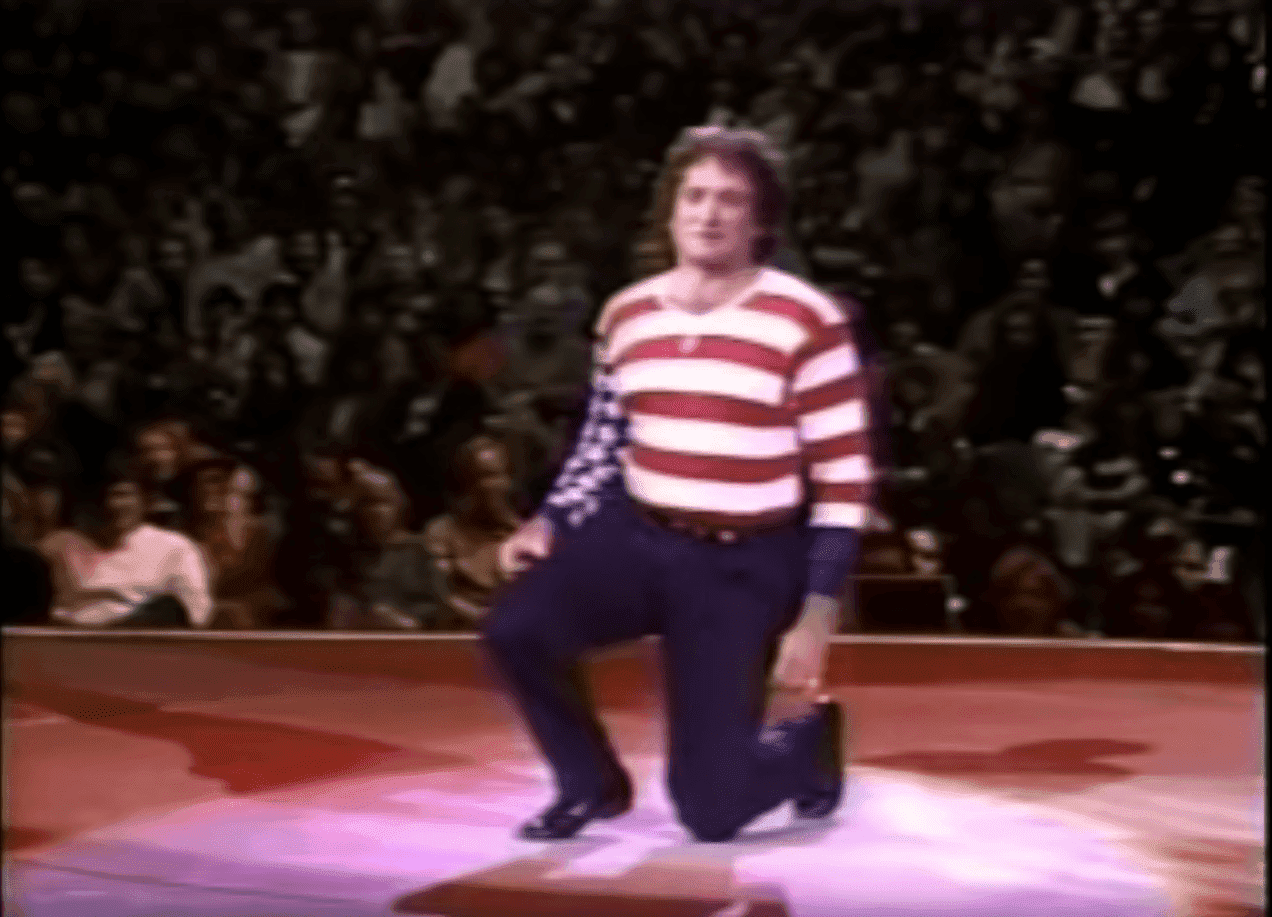 Robin Williams kneeling during the performance. l Image: YouTube/ PAFWdotorg.
According to Bannister, the cited fragment of the skit is meant to "discourage disrespect towards the nation's banner."
The author makes an explicit mention of the NFL player's kneeling protests during the National Anthem before quoting Lear's text voiced by Williams regarding the difference between standing, kneeling, being upside down and lying on the floor.
"People haven't always been respectful to me. Sometimes, it's been tough. There have been some people try to spit on me, trample me, burn me – foreigners, and, occasionally, some Americans, too," Williams also said.
"But, I don't let it get me down, because I'm not a stay-at-home kind of flag," Lear also wrote.
Both as himself and as the many characters he portrayed during his career, Williams voiced several words of wisdom that today are part of his legacy as a man and as an artist.
"No matter what people tell you, words and ideas can change the world," he once reminded us. "You must strive to find your own voice because the longer you wait to begin, the less likely you are to find it at all," is another of his famous quotes.
Please fill in your e-mail so we can share with you our top stories!