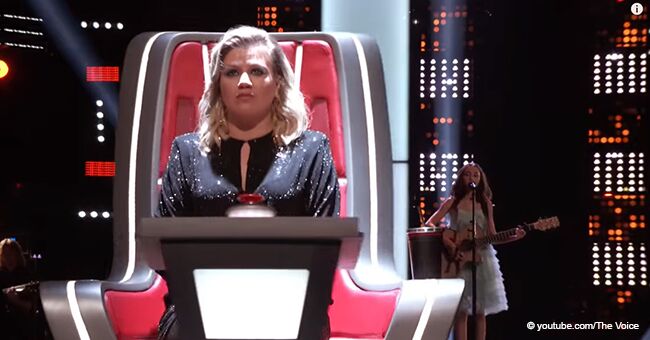 Kelly Clarkson Hits the Button after Just One Note from a Young Girl, and Her Voice Is Charming
Mikaela Astel's incredible performance quickly wowed coach Kelly Clarkson, who pushed her button within seconds.
Mikaela auditioned for the Night 5 of "The Voice" blind auditions in front of Clarkson, Blake Shelton, Adam Levine, and John Legend with her take on Borns' "Electric Love". She's just 14 years of age but exhibited musicality beyond her years.
Clarkson had only raves on how Mikaela played and soared with the notes.
"Your tone cannot be taught," Clarkson told Mikaela, adding that she had 14-year-olds on her team before.
Legend also turned his seat, but the young talented singer chose to join Team Kelly.
"It's really incredible to watch someone so young blossom on this show," Clarkson said. "It's gonna be such a great magical experience for you and I'm so happy you're here."
RECEIVING A COMPLIMENT
Clarkson had only raves on how Mikaela played and soared with the notes. She said:
"It is beautiful, it is round, but it's very angelic as well."
The "Since U Been Gone" singer also compared Mikaela's voice to other well-known vocalists, saying she heard "a little Regina Spektor, a little Julia Michaels."
"It's so interesting and cool and vibey and it's so different. I think that that's really important in this kind of competition," Clarkson added.
After Mikaela settled on the choice to join her team, the mother-of-two asked her fellow coaches, "Why do I always get the young ones? I think I love potential." To which Legend responded, "It's the mother in you."
ANOTHER WORLD-CLASS SINGER
Jej Vinson, who recently earned a rare four-chair turn in the blind auditions, also picked Clarkson to be his mentor.
The 22-year-old Filipino singer stole the coaches' hearts with his incredible rendition of Drake's "Passionfruit".
He received his first turn from Shelton, followed by Clarkson, and last two coaches Levine and Legend. Clarkson said that they are "probably going to win" and that she's very excited.
Please fill in your e-mail so we can share with you our top stories!