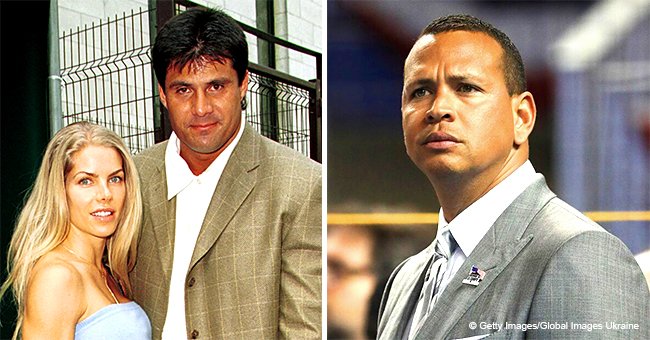 José Canseco's Ex-Wife Addresses A-Rod Cheating Claims Amid His Engagement to Jennifer Lopez

The woman placed in the middle of Alex Rodriguez and Jennifer Lopez has spoken up to address her ex-husband's claims that she's having an affair with the former baseball player. "I certainly did not sleep with him," she says.
While everyone else has been rejoicing over the fact that Jennifer Lopez and Alex Rodriguez are engaged, the latter's former fellow New York Yankee, Jose Canseco is not.
Just 24 hours after news of the engagement, Jose tweeted an accusation against Alex. He claimed the former ballplayer has been cheating on Jennifer with his ex-wife, Jessica Canseco.
"Watching World of Dance watching J.Lo text Alex Rodriguez little does she know that he is cheating on her with my ex-wife Jessica" he wrote and added, "poor girl she has no idea who he really is."
He also said that he was present a few months back when Alex phoned Jessica before challenging Jennifer's fiancé to a boxing match. Moreover, he tweeted his phone number in case Jennifer would "want the truth" about the man she intended to marry.
While neither the actress nor the athlete responded to Jose's insinuations, his ex, Jessica did. In a series of tweets, she denied having an affair with Alex explaining she hasn't seen him in at least five years.
"Those false accusations Jose is making are not true! I have known Alex for many years and haven't even seen him for over 5. I certainly did not sleep with him."
Jessica also said that she's friends with Alex and Jennifer and that Jose should just "keep playing with his Alien friends."
In a separate tweet, she revealed her absence on Twitter and was surprised to learn she was on the news. "Had to download app again and don't watch tv and had no idea any of this was going on," she wrote.
She recalled the last time she was together with Alex who was with Torrie Wilson at the time.
"Last time I saw Alex he was with Torrie and I brought my boyfriend over for dinner. We are just friends my god."
News of Alex and Jennifer's engagement dominated the headlines last week. It began when the pair shared a photo of the singer's giant engagement ring on her finger. "She said yes" Alex wrote to accompany the pic while Jennifer flooded her caption with a series of hearts.
A few days later, the couple shared behind-the-scenes photos of their engagement revealing it happened on a beach in the Bahamas. Jennifer was evidently shocked and happy by the proposal which culminated in a romantic kiss against the backdrop of a beautiful sunset.
The formidable pair has been dating since early 2017 and would often be lauded for their undeniable chemistry. They also made it their mission to blend their families and that turned out nicely. Jennifer's twins with her ex-husband Marc Anthony get along very well with Alex's two daughters with his ex-wife, Cynthia Scurtis.
With that kind of relationship, nothing should come in the way of their marriage. Not even cheating rumors that should die a natural death after the woman said to be the third party in their relationship denied them.
Please fill in your e-mail so we can share with you our top stories!