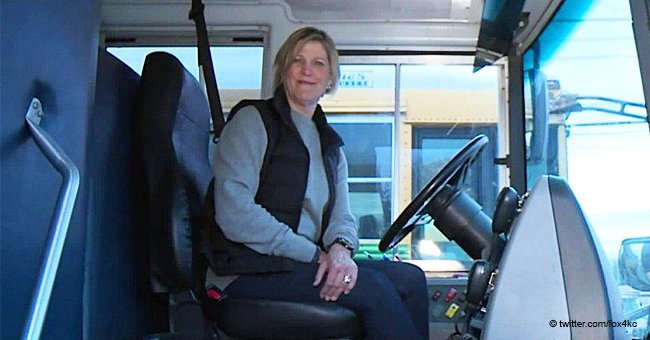 Bus Driver Hailed as a Hero for Saving 8-Year-Old's Life in Dramatic Footage
A small child owes his life to the driver of his school bus, if it had not been for her he would have died at any moment.
Allen Lovegreen, 8, was on his way home from school in Missouri. He and his older brother, Mitchell, never imagined that day as they roamed their usual bus route that the trip would suddenly take a terrifying turn.
The trip seemed to be normal when out of nowhere, Mitchell saw his brother Allen struggling to breathe. The little boy was trying to make some kind of noise to get help but there was little he could do given the situation he was in.
Mitchell realized that his brother was choking and that he must act fast to save him. The brave big brother immediately shouted to the bus driver, Carolyn Goering, to help his little brother.
As those crucial seconds passed, Allen says he was afraid he was going to die. But that day the boy was very lucky because the driver knew exactly what she should do to save him.
Without thinking twice, Carolyn ran to the back of the bus where Mitchell was screaming, and finally saved Allen's life by applying pressure to the stomach to clear the child's airways.
Reportedly, the school district that Carolyn works for does not require its drivers to take first aid training. Fortunately, other bus companies she worked for did require CPR training.
Carolyn has her own children and grandchildren, and she also treats the students as if they were her own children. However, in all her years of working as a bus driver, she never needed to put those skills into practice.
This grandmother who drives the bus deserves all the recognition of the world, just like this other driver who saved a toddler she found wandering alone in the streets from dying in the cold or suffering serious injuries in his limbs.
With the temperature at 4 degrees, Lyle Silbernagle noticed a toddler in only a diaper at a Minneapolis street corner. She pulled over the bus and stepped in to help and "did what should be done."
Sometimes is the kids who save the adults, that is the case of Will Restall, who is being praised as a young hero after he took action and saved his school bus driver's life.
According to Fox 13, the 11-year-old sixth grader went through his usual routine on the morning of Monday, September 17. He took the bus to Tolland Middle School in Connecticut as he does every weekday, but then a harrowing situation occurred.
Please fill in your e-mail so we can share with you our top stories!