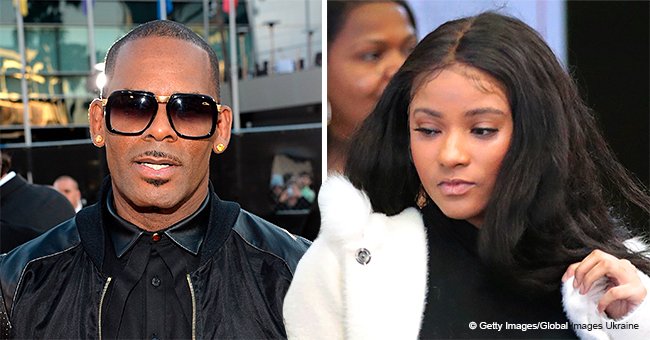 R. Kelly's Live-In Girlfriend Reportedly Told Friends He Assaulted Her on Their First Date
New shreds of evidence have been presented to authorities against R. Kelly. One of them is a phone call between his girlfriend, Joycelyn Savage and her voice coach who learned from her that Kelly assaulted her on the day they met.
Joycelyn Savage, one of R. Kelly's live-in girlfriends was reportedly assaulted by the singer on the day they first met. The Blast reveals a couple of Savage's friends squealed to authorities about the incident which Savage opted not to report to the police.
Savage was an aspiring singer when she was flown to Tulsa where she was scheduled to meet Kelly for a chance to audition with him in his private hotel room. However, instead of performing for the R&B singer, she was allegedly asked to strip to her underwear after which he took advantage of her sexually.
Though Savage didn't report the incident to authorities, she was said to have confided in her voice coach and the coach's son. She told them Kelly forced her to lay in bed then assaulted her.
Out of concern, her coach told her parents who tried to stop her from seeing Kelly again. But Savage didn't listen to them and eventually left them for the singer. Her parents tried to press charges against Kelly but Savage, as the only witness, refused to participate so they were unable to pursue the case.
Today, new pieces of evidence against Kelly have been presented to authorities by two of Savage's friends. One is a phone call between Savage and her voice coach where she confesses she's being controlled by the embattled singer. She reportedly told her coach that she had to earn his trust back after she upset him by telling her parents about their relationship. She also mentions that Kelly asked her to text him a message saying she lied to her parents about them so he could use it as proof later in case he was accused. Moreover, she worried about the possibility of acquiring STD from him.
Another call was a three-way between Savage, Kelly and her voice coach discussing the business of Savage's voice and her future career.
Moreover, her parents shared copies of her plane tickets to Tulsa where she met Kelly. They were purchased by the singer's former employee, Cheryl Mack.
As investigators find more proof to pin down Kelly due to his alleged sexual misdeeds, Savage continues to live with him and defend him. During an interview together with Kelly's other girlfriend, Azriel Clary, the 23-year-old insisted she was happily in a consensual relationship with him, though many including her parents believe that interview was being controlled by Kelly too.
Kelly is currently facing charges of sexual misconduct from four women he allegedly took advantage of a few decades back. Three of those women were minors then. He's currently out on bail.
Following his arrest, he sat down with Gayle King for an exclusive interview and insisted he was innocent. He was highly emotional when he denied wronging these women.
Please fill in your e-mail so we can share with you our top stories!