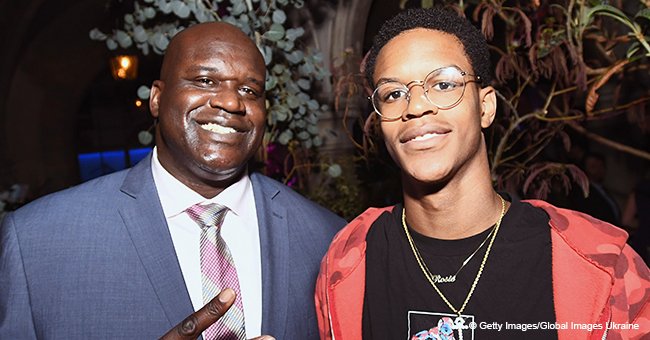 Shaquille O'Neal Urges Black Community to Check Cardiac Health After His Son's Heart Surgery

Due to his own experience with his son, Shaquille O'Neal is encouraging his Black community to take a more active part in monitoring their heart through his latest passion project.
Shaquille O'Neal has made it his mission to help the Black community with their cardiac health.
The NBA legend announced during his recent visit to The Grio that he's taking steps to promote awareness about heart failure. Through his pet project, "Shaquille Gets Real about Heart Failure," he aims to educate families about the dangers of heart failure and the importance of early detection.
A PERSONAL PROJECT
The project is very close to Shaquille's heart especially after his son, Shareef underwent surgery recently to correct an electrical issue in his heart. Back in September, the 19-year-old revealed he was suffering from a heart condition after feeling funny while training in the summer. Instead of playing his first year under UCLA's basketball team last fall, he was forced to sit out what would have been his freshman season.
In December, Shareef went through a successful operation. More recently, he disclosed that he's just a few weeks away from returning to the sport he loves. His father gave an update to The Grio about his condition and said that he's currently on rehab and is expected to take a stress test to check if he's ready to play.
A SERIOUS ISSUE
According to statistics, African-Americans are twenty times more likely to develop heart failure than other ethnic groups before the age of 50. As such, Shaquille who's 47 is taking extra precautions.
"I'm 47-years-old, and I'm one of those guys, I look in the mirror, my belly's not hanging over, I work out pretty good," he boasts before encouraging others to "get real" about their health.
"This affects us more than it does anybody. We need to get real. We need to get serious."
A HELPFUL HUB
The 7'1 athlete partnered with Association of Black Cardiologists President Elizabeth Ofili and Arbor Pharmaceuticals in coming up with an online hub which provides educational resources for practitioners and patients. It also features videos of Shaquille and Ofili educating the Black community about heart care.
"I don't have any problems. I just want people, especially people of my community to make you just go see a physician, go get checked out," he says. "The older we get, sometimes we have to change our lifestyle. Like I can't eat as many burgers as I would like to. People need to know the disparity."
Ofili adds that it's important to remain vigilant about symptoms.
"If you're suspicious because you're feeling or feeling some symptoms, shortness of breath, or just being an adult over the age of 30 as I say, get an annual checkup."
And for those who may be strapped for cash when seeking treatment, "The Shaq BiDil Access Program" provides assistance. BiDil is a heart failure medication that specializes in relaxing blood vessels in the body and is specifically designed for Black people. With Shaq's program, people can benefit from this medication with options for financial aid.
Please fill in your e-mail so we can share with you our top stories!