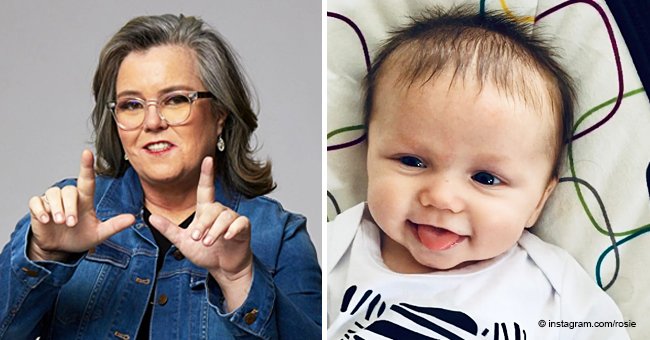 Rosie O'Donnell's Granddaughter Shows off Her Cheeky Smile, and Her Hairy Head Is Adorable
Comedian Rosie O'Donnell is now a grandmother to a beautiful baby girl, Skylar Rose, from her daughter Chelsea.
Rosie and Chelsea haven't had a very smooth mother-daughter relationship, but since becoming pregnant, the pair have made an effort to be part of each other's lives once again.
So on the day of the birth, O'Donnell did her best to make it to Wisconsin in time for Sklar's arrival. And although she missed the exact moment, she was nonetheless ecstatic to hold her granddaughter for the first time.
Her Instagram posts are like a proud grandmother's brag book, and she makes sure she is available to the family as much as her schedule permits it.
Little Skylar already shows her spunk with her adorable facial expressions all captured and shared on Rosie's account. She may be tiny, but she has brought an enormous amount of joy to her family. Rosie shares,
"Just to see my daughter so happy and so, sort of, content...And this guy who loves her so much loves the baby. And now she feels like a lot of adopted kids feel. Until they have their own child, they don't have that unit to look at, someone who looks like them, to see - genetically - they have their own kind of history. So it was, really, a very beautiful thing."
Another person bringing happiness to Rosie's life is her fiance, Elizabeth Rooney. It was in 2017 that the couple revealed that they were together. They have maintained a long-distance relationship with Rosie in New York and Rooney in Boston. They also have a big age gap with O'Donnell being more than a decade older than her Army veteran girlfriend.
Rosie was married to Michelle Rounds who died of an apparent suicide leaving behind their daughter, Dakota. Before Michelle, she was also married to Kelli Carpenter with whom she shared four other kids, including Chelsea.
Elizabeth and Rosie plan to take their time with the wedding.
"This is a long time in the future. We both decided that that would be best."
Please fill in your e-mail so we can share with you our top stories!