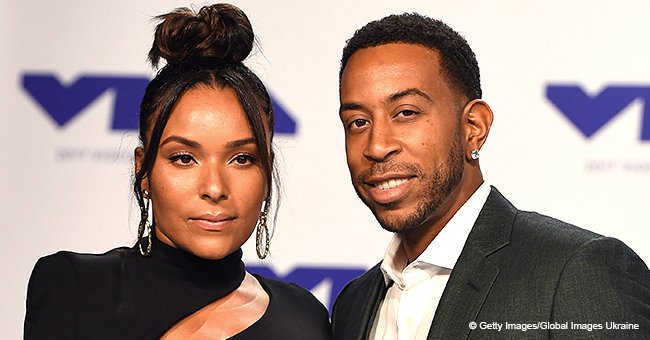 Ludacris Dragged after Calling Daughter with Wife Eudoxie 'a Half-African Light Skinned Baby'
Ludacris can't stop gushing about his youngest daughter, Cadence, on social media. But one of his recent clips of the toddle caused quite the controversy among his followers thanks to his caption, as the rapper created, without realizing it, a debate about colorism on his comment section.
The rapper and actor recently took to Instagram to share an adorable video of his 3-year-old daughter with wife Eudoxie Mbouguiengue, Cadence, dancing to the rhythm of the African pop song, "Yaji" by Yemi Alade.
In the clip, Cadence is first seen shaking her arms and legs to the song on her car seat, and then she asks to get out of the vehicle to dance more comfortably. Once on the street, Cadence showed her best moves as her mom encouraged her and recorded her.
While most fans were enchanted by the girl's dance moves and confidence, others didn't find Ludacris' caption appropriate for the video. "When you're raising a Half-African light skinned Baby @eudoxie," the rapper wrote.
Even though in hindsight, Ludacris is right about Cadence being half-African because he's American and Eudoxie is from Gabon, people were not happy about the rapper mentioning how his daughter is "light-skinned," and many found the comment offensive and ignorant.
"Tell this man that he is VERY STUPID! COLORIST at the finest smh. Us African are proud, and you are Lucky to have a brilliant wife who is very proud of where she comes from! Black men in America are most of the time shameful for the black community," wrote one angered user.
Another added, "Apart from insinuating that all Africans are dark-skinned, you must not know your own background. You're of African descent hello! So ignorant it's embarrassing."
And a third one chimed in to say, "Luda, this caption is obviously wrong. It does not matter if she is half African light skin. She cute and know how to dance already; the color of her skin has nothing to do with it."
However, others came to Ludacris' defense, stating that people were oversensitive to his comment and that, if he had a dark-skinned girl and dared to say it on social media, there would people going at his throat anyway.
One user wrote:
"If she was darker complexion and his caption said "my half African chocolate drop melanin popping" most of y'all would be praising him !! Or if he would've said simply " half African" a lot y'all would've said " huh what she's too light to be African" so knock it off y'all love looking for a problem."
"Ridiculous... his baby IS light skin... and her mother is African while he is American... he can use whatever description he chooses... if she was dark brown and he said dark brown baby y'all wouldn't have even commented," another person added.
Despite the backlash, Ludacris hasn't taken down the video or removed the caption, as he remains unbothered about people's opinions of his chosen words.
The "Fast & Furious" actor has proven in the past that he and his wife are raising their girl to be aware and proud of her roots. Last year, Eudoxie took Cadence on a trip to her motherland in Gabon, where the girl had the chance to meet her great-grandparents and connect with the African culture first hand.
Eudoxie took to her Instagram back then to share a pic of the adorable moment, and she explained in the caption why the encounter was so unique, not only for her daughter but also for her grandfather. She wrote:
"Cadence meets her great-grandparents. This moment has always been a dream of mine and my grandfather. My grandfather for years used to tell me it was time for me to have a kid because he felt he didn't have much time left with us. I was the last one of his grandkids to have a child."
And continued:
"It didn't matter how many times I told him I was still in school and that I wanted to wait until my relationship was stable... Grandpa said, "have the baby, bring him here and I'll take care of him until you are stable." He is the best and most loving."
Fans love the fact that Eudoxie and Ludacris are allowing their daughter to connect with her African roots from such a young age, but sadly, they can never make everyone happy on the social media era.
Please fill in your e-mail so we can share with you our top stories!