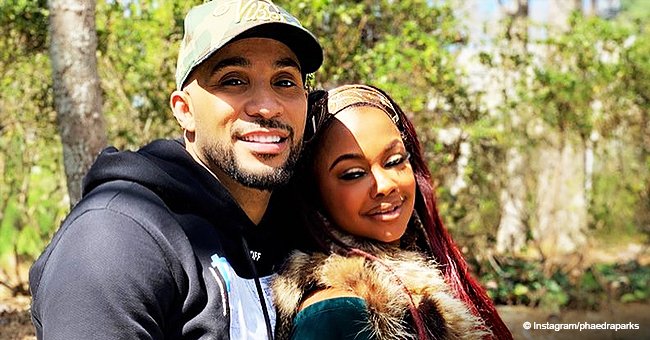 Phaedra Parks Sparks Happiness Posing with Boyfriend in Newest Photo on St. Patrick's Day
Phaedra Parks glowed as she posed with her boyfriend, Tone Kapone, on St. Patrick's Day.
Fans of attorney and reality star Phaedra Parks were delighted to see her new post on Instagram on March 17, 2019.
Parks shared a stunning photo of herself with her boyfriend, Tone Kapone, and the "Real Housewives of Atlanta" star literally glowed with happiness.
"When your good luck charm is beside you #happy #stpatricksday #blacklove"
PHAEDRA PARKS CELEBRATES ST. PATRICK'S DAY
The occasion Parks was celebrating was St.Patrick's Day, and was suitably attired in a green velvet outfit in honor of the famous Irish holiday.
Holding her was Kapone, who wore a hoodie, and jeans, and touched her hand with a touchingly tender gesture that had fans' heart's melting.
Phaedra Parks kicked off the New Year in 2019 in high style on the arm of radio DJ Tone Kapone.
PHAEDRA PARK'S COMPLICATED MARRIAGE TO APOLLO NIDA
Parks had married Apollo Nida in November of 2009, and the couple shares two children, Dylan, 5, and Ayden, 8. Unfortunately, the relationship was complicated by Nida's shady criminal background.
In 2014, Nida was sentenced to 8 years in a federal prison for bank fraud and identity theft.
STRUGGLING THROUGH TO RAISE HER BOYS ALONE
With Nida in prison, Parks was left to raise her two tiny children on her own. The "RHOA" star confided in her friends that knowing that he was safe, and couldn't hurt anyone gave her peace after years of constant anxiety. In 2017, her divorce was finally granted.
A HAPPY PHAEDRA PARKS SMILES AGAIN
Park's fans were delighted to see the attorney, 45, smile again after so many difficult years.
Well-wishers were quick to comment on her obvious happiness:
"I am so Happy to see you so HAPPY & loving ya Boo."
Others offered advice, and expressed some anxiety about Kapone's intentions:
"I hope he has good intentions and not for fame and money like the other one. You deserve all the happiness that comes your way sis."
Parks referred to Kapone as her "lucky charm" and she seems to have found everything she's been longing for, and all the happiness she deserves.
WHO IS TONE KAPONE?
Phaedra Parks kicked off the New Year in 2019 in high style on the arm of radio DJ Tone Kapone.
The couple had been dating for 3 months but the reality star had been keeping the identity of her new love interest under wraps.
She finally revealed the radio host as her new relationship, the first since her ex-husband Apollo Nida was imprisoned in 2014.
Kapone is a radio host on Dish Nation, a syndicated radio show in which Porsha Williams also stars.
While her post left some fans confused about the status of Parks and Kapone's relationship, the radio DJ later confirmed they were dating on an Instagram live, where he said:
Please fill in your e-mail so we can share with you our top stories!