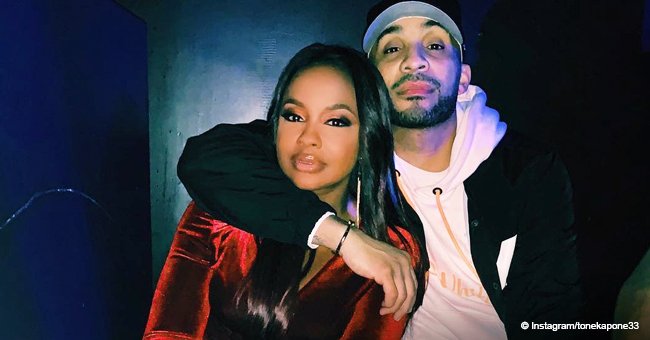 Former 'RHOA' star Phaedra Parks gets lovey-dovey with new boyfriend Tone Kapone in sweet photo
Phaedra Parks started the year with a new man, and she's now proudly flaunting him on social media. Tone Kapone, a radio DJ on Dish Nation, also revealed how they met and made clear he has eyes only for Parks.
The former "Real Housewives of Atlanta" star and Kapone have been dating for the past three months. She even talked about him in an interview with People last December, revealing she was seeing someone but keeping his name a secret.
"I have a special guy that I've been seeing," she said at the time. "I'm really excited. We haven't introduced him to the world, but he's a baby doll. He looks like a treat because he is a treat. He's a great guy."
DEFENDING THEIR RELATIONSHIP FROM EARLY RUMORS
In their most recent pic together, shared by Kapone, the radio DJ wrapped his arm protectively around Phaedra's shoulders as they sat side to side giving a serious look to the camera.
Phaedra looks stunning wearing a red velvet jumpsuit and matching shoes, while Tone kept it casual with black pants, a pink hoodie, and a black jacket.
"Not For Everybody" Just for Her," he captioned the pic.
Kapone's words are referring to comments made by "RHOA" alumni Claudia Jordans, who recently stated on a now-deleted comment on Instagram, that the man was hitting it off with one of her friends before New Year. She added, "Someone tell mr. Kapone they don't pay the men on RHOA! Only for the reunion run Phaedra! He for everybody!"
Phaedra, on the other hand, threw in her bit of shade by posting a selfie just after Kapone shared his post and captioned it "what he said."
STARTING THE YEAR WITH A BANG
Parks made it Instagram official on January 1, by sharing a pic posing with Tone and looking gorgeous in a burgundy jumpsuit featuring a plunging neckline that went all the way to her waist. She simply captioned the pic: "2019 we are ready."
While her post left some fans confused about the status of Parks and Kapone's relationship, the radio DJ later confirmed they were dating on an Instagram live, where he said:
"Yes, me and Phaedra are dating. OK, cool. Is that it? That's the big moment everybody was waiting for. Yeah, it was kind of self-explanatory on her page. I didn't want to re-post it because it seemed like it would have been super weird. Like, yeah, look at me. If you know anybody that knows me, I'm not that kind of guy."
He also explained in an interview with The Jam TV Show, that he met Parks through mutual friends and he also slid into her DMs. "She's funny as ever. She's one of the funniest women I've ever met," he said of his favorite thing about her.
WISHING WELL TO HER EX-HUSBAND
Tone is the first guy Phaedra dates publicly after finalizing her divorce from Apollo Nida in 2017.
Nida, with whom Parks shared two sons, Ayden, 8, and Dylan, 5, is currently serving an eight-year sentence in jail after pleading guilty to bank fraud and identity theft in May 2014, the same year they officially split.
He's also engaged to a new woman and is expecting to be released in 2020.
Despite their differences, Parks has stated she wishes him well. "We have two beautiful sons together," she told People. "I'll always be grateful for that. I'm hoping he will get married to whomever he is engaged to, honey, and he will be out of my hair."
Please fill in your e-mail so we can share with you our top stories!