NY Teacher Accused of Selling Black 5th Graders to Their White Classmates in Mock Slave Auction
A white teacher at a school in New York is facing backlash after she allegedly made her white students bid on their black classmates in a mock slave auction.
Rebecca Antinozzi, a white teacher at the private-owned Chapel School in Bronxville, Westchester County, held the mock slave auction as part of a fifth-grade history lesson on March 5, reports NY Daily News. Unfortunately, not everyone thinks it's as simple as that.
This week in wtf is going on.

A white 5th teacher at a Westchester, New York private school told her white students to bid on black classmates in a mock slave auction: https://t.co/JUOuIOsMC3 pic.twitter.com/TAZE970tkW

— Complex (@Complex) March 11, 2019
THE ENACTMENT
Vernex Harding, whose son was one of the black students picked by Antinozzi to depict the slaves, is one of those people. She told the news outlet that her family is immensely upset by the incident.
"I'm shocked and infuriated that this happened to my son. I'm very shaken."
According to Harding, her son came back home on the day the mock auction was held and told her that their teacher chose three of the black students in the class, pretended to put them in shackles, and had the white kids act like slave owners who would eventually bid for the "slaves."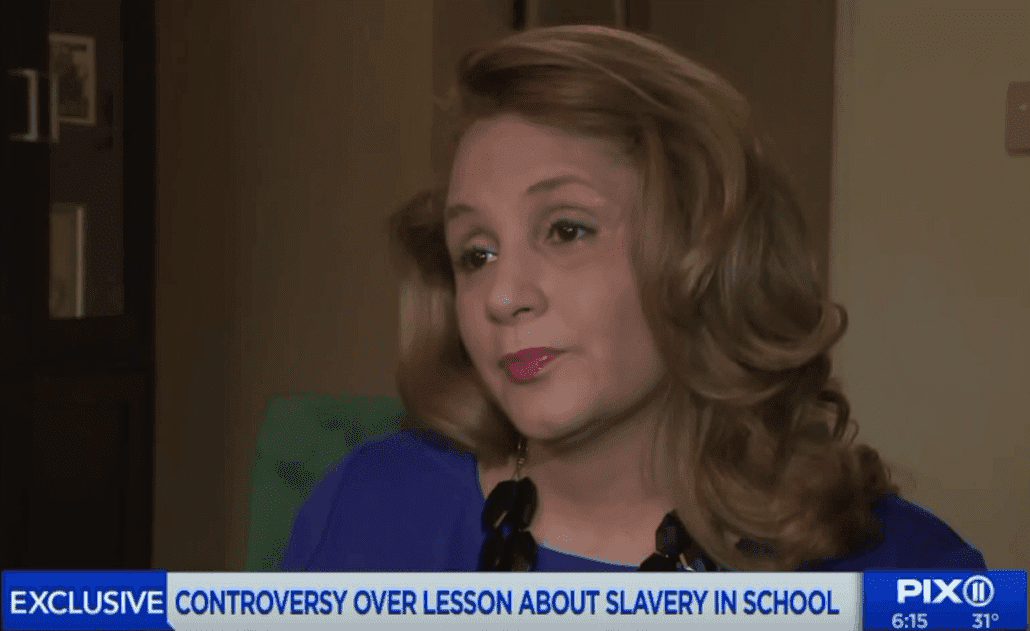 MIXED REACTIONS
Harding said that her son was "humiliated" and claimed other students, including white ones, also found the lesson uncomfortable. She also said the school, where black students are only a small minority, has a history of race-related issues.
Other parents at the institution have also expressed their concern over the incident, but Dwayne McKinley, a black father, insisted that Antinozzi is not racist and believes her lesson was taken out of context.
Mock student slave auction rocks private Westchester school

A white teacher's history lesson: have white students bid on young black student 'slaves.'

"The children were encouraged to bid on them," a mom said. "My son was humiliated."https://t.co/oRdJpGpSmR

— New York Daily News (@NYDailyNews) March 9, 2019
ATTORNEY'S RESPONSE
Antinozzi's lawyer, Joshua Kimerling, echoed McKinley's thoughts in a statement defending his client:
"The portrayal of the history lesson that has been reported is inaccurate, out of context, contains false facts and ignores the overwhelming support of Ms. Antinozzi from dozens of parents at the school. ...To the extent anyone took offense to a small portion of the overall lesson that day, it certainly was never intended."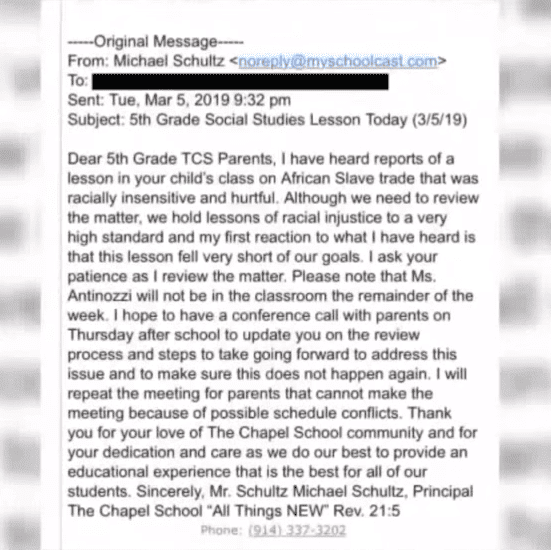 MULTIPLE INVESTIGATIONS
The controversial issue is being investigated by school officials, according to the principal, Michael Schultz, and state Attorney General Letitia James has also launched a probe into the matter.
"The reports of racist 'lessons' by a teacher at The Chapel School are deeply troubling," she said. "My office is monitoring this matter closely."
MORE SLAVERY LESSONS GONE WRONG
Antinozzi's ordeal brings to mind the case of Patricia Cummings, another NY teacher who found herself in trouble after being accused of stepping on the backs of her black students during a controversial slavery lesson.
The embattled teacher protested her innocence, claiming all she did was ask some of her students to volunteer to sit close to each other on the floor. She was teaching a lesson on slavery and wanted to depict how slaves sat on slave ships.
After an investigation by the city Department of education, Cummings was eventually fired in October of 2018, and earlier this year, she revealed plans to sue them and several other defendants in a $1 billion lawsuit for what has been called "reverse discrimination."
Last months, parents of 5th graders at a South Carolina school, also expressed outrage after their kids were told to pick cotton and sing slave songs during a class field trip in celebration of Black History Month.