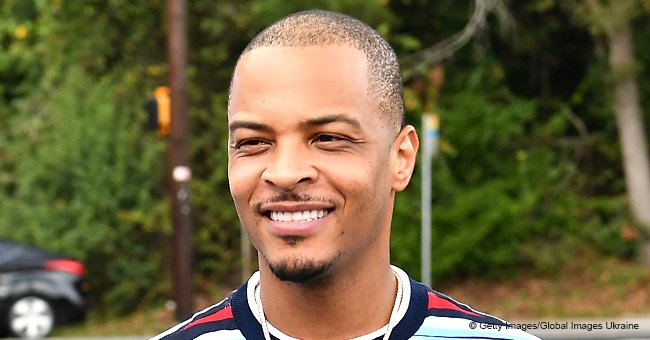 T.I. Is 'Happy' That Another Kid Is off Child Support as He Celebrates Son Domani's 18th Birthday

T.I's son, Domani Harris, recently turned 18, but the doting dad is happy for so much more than his son's latest milestone.
Domani hit his legal age on March 16, and his rapper dad did not let the day go by without paying tribute on social media.
Alongside a picture of the duo sharing a handshake, T.I. (birth name Clifford Harris Jr.) wrote:
"I can't say enough how proud I am of the man you're becoming. …I'm always impressed by your 'young wisdom' and your selfless (borderline insane) generosity. Your talent has always been undeniable and now your passion, focus and awareness are catching up to it all at once. It's truly an honor to be a part of your journey up to here."
"Even doper to see you shape and mold future generations," he continued. "You've accepted all the challenges the universe put in front of you (well...except football)& made the adjustments necessary that grew you all the way here to this moment."
"Wouldn't have believed it had I not seen for myself" ~ T.I.
The "Dime Trap" rapper ended his shout-out by promoting Domani's latest single, "Game We Play," the snippet of which he shared in a previous post.
Not only does the birthday boy bear a striking resemblance to T.I, but he's also been committed to following in his musical footsteps. The rapper couldn't be prouder as he continues to support and promote Domani's talent.
T.I's joy, however, is not only in the fact that his son has come of age. In footage posted by The Shade Room, the rapper can be seen dancing and celebrating as he yells:
"I got another kid off child support, baby! We made it, baby!"
Domani is T.I's son with his ex-girlfriend, LaShon Dixon. The "Whatever You Like" rapper also has an older son, Messiah, with the same woman.
His two other sons, King and Major, are born by his wife, Tameka "Tiny" Harris, and T.I, 38, has another budding rapper on his hands there.
Earlier this month, he shared a video of King, 14, performing amidst an enthusiastic crowd and couldn't help gushing:
"Yeah man, King working da other one!!! Wouldn't have believed it had I not seen for myself...He was LIT lit, I must say. Proud to see him following his dreams. Looking forward to witnessing His journey."
T.I also has a 17-year-old daughter Deyjah, with another ex-girlfriend Ms. Niko, a two-year-old daughter, Heiress, with his wife, and a stepdaughter Zonnique Pullins, who is Tiny's daughter from a previous relationship.
Please fill in your e-mail so we can share with you our top stories!