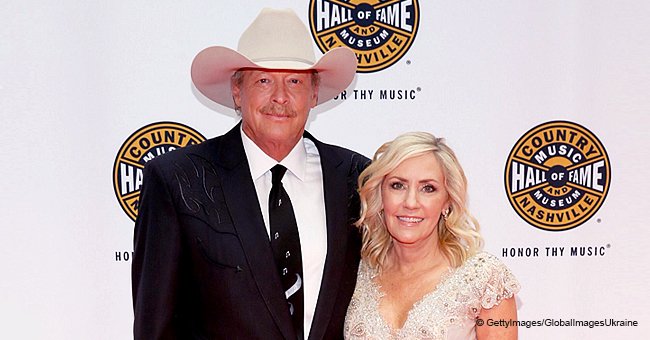 Alan Jackson's First Song That Shot to No. 1 Is a Charming Ballad Dedicated to His Wife

It's been twenty-eight years since the love song Alan Jackson composed for his wife, "I'd Love You All Over Again," reached the peak on Country Radio's songs chart.
Alan Jackson, who is considered as one of the greatest talents in country music, composed his first No. 1 song about twenty-eight years ago. The hit song, "I'd Love You All Over Again" was released to the public in the year 1991 and was dedicated by Alan to his wife, Denise.
The romantic ballad was released alongside other beautiful tracks in Alan's first album, "Here in the Real World," and was also among the five songs released to the radio.
"I'd love you all over again" began Alan's long and deserved reign at No. 1 on Country Radio. In his extra-long career, he went on to compose twenty-five No. 1 songs and became one of the most recognized figures in country music.
The lyrics of the love song are enough proof that Alan wrote it, especially for his beloved spouse. Alan designed the song to profess his genuine love for Denise and also assure her that he would marry her again if he had to.
At the time of the song's release, Denise and Alan had been married for ten years. It is not the only song that Alan has composed for his wife. "Remember When" is another popular track that Alan wrote, where he seemed to reminisce about his life and love with his wife, Denise.
The couple has been married for about forty years and are deeply respected by their fans on the basis of their long-lasting marriage. The high school sweethearts got married on December 15th, 1979 and can proudly say that their marriage stood the test of time.
The relationship between the couple hasn't always been rosy. They decided to have a family when Alan seemed to be at his peak in music. He dropped his debut album in February 1990 and became a father just a few months later.
In seven years, he had become the father of three beautiful girls. It was at this point that the strains of being a star started to show on his relationship with Denise. To that effect, the couple separated for several months before they worked out their issues and decided to get back together.
Another test presented itself in 2010 when Denise was diagnosed with colorectal cancer. Fortunately, she survived the disease with the help of chemotherapy and is back on her feet.
The couple is now stronger than before and has learned various lessons on how to love each other more truly.
Please fill in your e-mail so we can share with you our top stories!