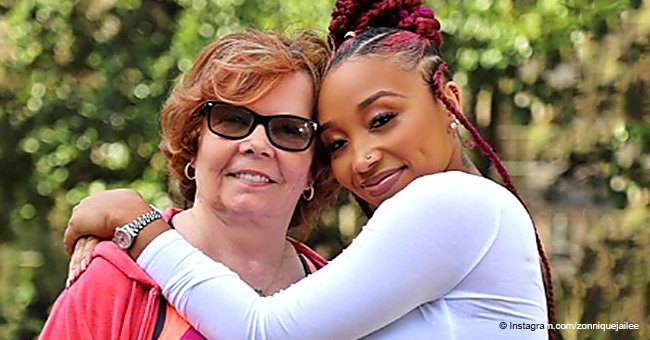 Tiny Harris' Mom Addresses Pregnancy Speculation about Granddaughter Zonnique Pullins
Tiny Harris' mother, Diane Cottle-Pope has had enough of the rumors about her granddaughter, Zonnique Pullins. She finally addressed the pregnancy issue head-on by responding to a fan.
The word in the street is that Tiny Harris' daughter Zonnique Pullins is pregnant. In response, Tiny's mother put out a word of her own to address the rumors.
It's been a while since fans began speculating over Zonnique Pullins' alleged pregnancy. It began when she appeared to be concealing her figure using loose outfits. Her reasoning back then, "Ya'll do know it's winter time right?"
The comment was a response to a fan who asked Zonnique to reveal her stomach after she shared a photo of her wearing a hoodie and sweatpants. To dispel the rumor about her pregnancy, she added,
"I'm not hiding anything from ya'll get over it."
Her mom, Tiny Harris even chimed in and wrote, "Right."
Though it would seem that Zonnique straightened that out, she recently shared another photo where she's wearing high-waist joggers with a white long-sleeved shirt. It was a photo taken at a park where she spent time with her mother as well as her grandmother, Diane Cottle-Pope.
"Looks aren't everything but I have them just in case," Zonnique wrote to caption the slide show she shared from that day.
But her looks seemed to be all her fans cared about. They began suggesting she had a "pregnancy glow."
Tired of the incessant rumors, Zonnique's grandmother took to her comments section and responded.
"Please forget it she's not pregnant. When she gets pregnant we will tell the world."
Zonnique is currently seeing her boyfriend Bandhunta Izzy. And while she insists she's not carrying his child, she teased about giving birth last year.
"While Y'all been waiting to hear from Kylie [Jenner, who had just given birth], ya missed my whole pregnancy," she wrote as a comment to her friend, Reginae Carter's post flaunting her brand new baby – a puppy.
She later revealed on "The Real" that the dog was a Pomeranian she named Whisky. She also said it was a challenge being a mom to the pooch and was hoping to find godparents for him to help her in babysitting duties.
Sorry folks, the only baby Zonnique is having is the one she already has and he's quite a handful as it is.
Please fill in your e-mail so we can share with you our top stories!