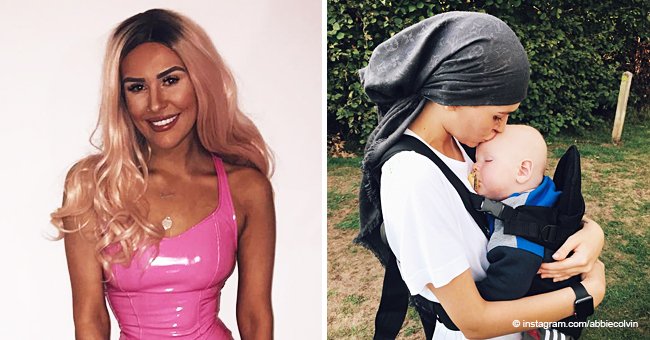 Young Mom with Cancer Creates Fabulous 'To Do' List to Enjoy Life to the Full
Abbie Colvin was only 19-years-old when she found out she had cervical cancer. Shortly after, even when she did not recover from the shock, she received other important news: she was pregnant.
The young woman found out after a pregnancy test and after having undergone laser treatment to attack the cancer cells. Although she was offered chemotherapy during her pregnancy, she was not willing to take risks.
Oscar Buchanan, her baby boy, was born on December 12, 2018. Since then, Colvin has continued to push her ambitions even when cancer subjects her day by day. She gets up at four in the morning to go to work and is determined to fulfill her dream of being a doctor; that is the reason why she has not abandoned her classes at Manchester University.
A few days ago, the 21-year-old shared a list of things she would like to do before she died, including being a bridesmaid in her sister's marriage, making love under the stars, seeing the Northern Lights and bringing Your little one on vacation.
Christie, her sister, has created a fundraising page to help her fulfill these wishes, which also include learning to skate on ice and helping victims of metastasis.
"She never lets anyone around her feel sad, and that's why she keeps such a brave face and lights up like nothing is happening in her life," says Christie. "She keeps fighting and I really think that that's what has kept her going."
Other things she wrote on her wish list are ice skating, elephant riding, eating in Italy, seeing the Egyptian pyramids, seeing Ariana Grande live and repairing broken relationships. Colvin has seized the moment to motivate young women to never give up in their battle against cancer.
"It's very nice to be able to share my story and spread it to other women, especially people who are too young for a test. It's scary If I had not kept going to the doctors and had done a sexual health exam, I still would not know I had cancer. That test saved my life," she says.
Like her, every year, around 3200 women are diagnosed with cervical cancer in the United Kingdom. There are about 9 cases per day. The main symptom is unusual bleeding from the vagina. More than half of these cases occur in women under 45 years old.
The treatment depends on how big the cancer is, and if it has spread to any other part of the body. Usually, surgery or a combination of chemotherapy and radiation therapy is needed.
If you think that some of the list items are a little odd, let me introduce you a Dutch woman, 99-year-old Annie, who had a wish – to get arrested once in her life and she ticked it off her bucket list.
Police officers of Nijmegen-Zuid, Netherlands, took to Facebook to share photos of an ecstatic Annie in the cell on February 23, 2017.
Please fill in your e-mail so we can share with you our top stories!