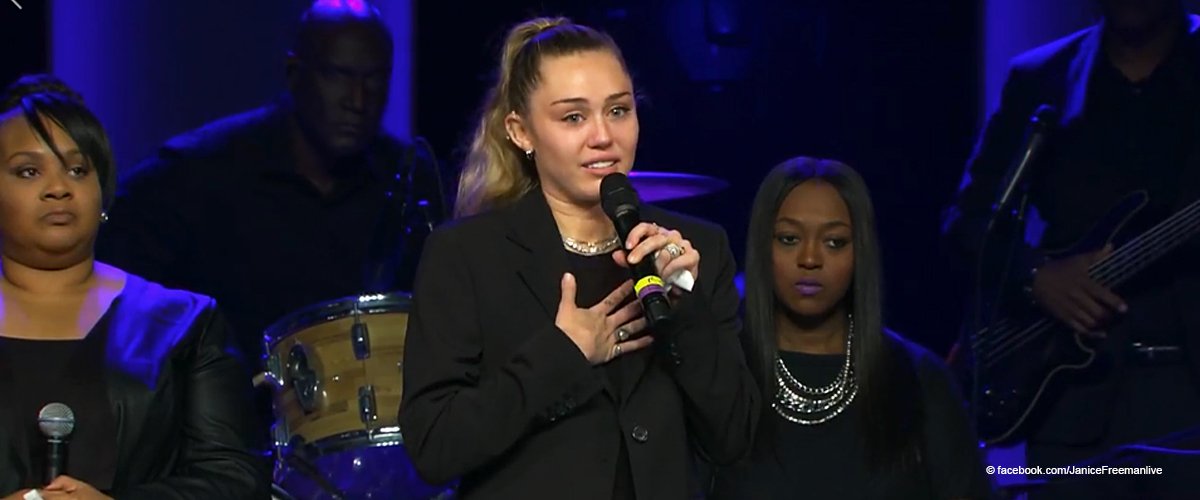 Miley Cyrus Cries While Paying Tribute to Janice Freeman at the Singer's Memorial
Miley Cyrus teared up during a speech she gave at Janice Freeman's memorial service. The singer stated that Freeman was her coach, not the other way around.
Cyrus and several other friends and family members of the deceased gathered at Mariners Church in Irvine, California on Monday. The service was streamed live to Facebook on Freeman's page.
At just 33, Freeman passed away on March 2 when she experienced an "extreme case of pneumonia and a blood clot that traveled to her heart" according to representatives.
Cyrus, a coach on "The Voice," mentored Freeman for season 13 where the contestant reached the top 11 at the time. During the memorial service though, Cyrus insisted:
"I was never her coach, ever. She was always mine."
She explained:
"I've learned more from her than anyone that I've ever gotten the honor to be in the room with, not just vocally, I should've gotten more lessons than I did, but she taught me everything that I know about love."
Cyrus began getting emotional about the loss, something she clearly anticipated. She said she planned to sing a song to Freeman but couldn't handle it.
She said:
"So ... my dad's gonna take care of this for me. But, I'll always be your sister, I'm here for you, and I'm here for your family, and Janice I'll miss you more than I could ever say."
Billy Ray Cyrus then helped the 26-year-old to deliver a performance of "Amazing Grace" dedicated to Freeman. Her dad started off before Cyrus joined in. She finished off the rendition by going solo for her friend.
After the song, Cyrus said:
"Thank you for letting us be a part of your family, and thank you, Janice, for letting me be your friend. It's been an honor."
On March 2, Freeman complained of breathing trouble and her husband performed CPR on her at her Pasadena home until the ambulance arrived. Sadly, she was pronounced dead not long after arriving at the hospital.
Freeman and Cyrus had a special connection after meeting through "The Voice." Cyrus assisted Freeman financially after she came to love her exuberant personality.
Freeman was extremely appreciative, saying that Cyrus heart "is so huge" in a video. The former "Voice" contestant was also a cervical cancer survivor who was fighting lupus prior to her death.
Soon after she died, Cyrus took to Instagram to post a lengthy tribute along with a picture of she and Freeman onstage.
It read:
"I miss you so much it hurts. Everywhere ..... but so did you. So often. So much pain and no one would ever notice because of the smile and joy you constantly radiated. I am trying my best today to celebrate your existence, but I can't help but just deeply mourn over your absence."
In another post, Cyrus shared a clip of Freeman reading a letter she had written to Cyrus. She wrote in the caption:
"To hug you one more time @janicefreeman …. I made a promise to you here on earth and will keep that promise as you watch from heaven. To take care of your precious little girl, my baby sister. To shine light on your husband and mother when days are dark ! I love you."
Jennifer Hudson also sent out a post in honor of the deceased in which she described Freeman's voice as a "blessing and inspiration to us all!" She expressed condolences to the family and prayed that Freeman would rest in peace.
Please fill in your e-mail so we can share with you our top stories!