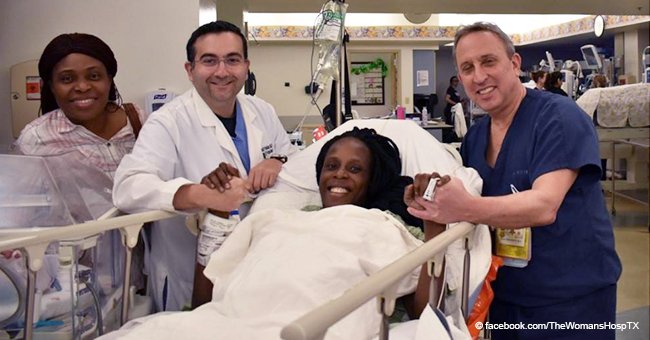 Exhausted Texas Woman Gives Birth to Six Babies in Less Than 10 Minutes
Thelma Chiaka had sextuplets at the Woman's Hospital of Texas, successfully delivering them all within ten minutes.
Her brand new brood is made up of two sets of twin boys and one set of twin girls. The tiny babies each weighing between one pound and twelve ounces, to two pounds and fourteen ounces, are all stable in the neonatal intensive care unit under the care of Doctors Ziad Haidar, Sharmeel Khaira, and Israel Simchowitz.
Residents and former patients of the doctors commented on the post featuring Chiaka's amazing delivery, giving their congratulations to the new mom and praise for the attending physicians.
One happy user said, "Dr. Simchowitz is the best neonatologist! He took care of my triplets."
The proud mom was only able to name her daughters, Zina, and Zuriel since she was too tired after the whole experience.
The hospital statement read, "The Woman's Hospital of Texas, an HCA Houston Healthcare Affiliate, which delivers more babies than any other Texas hospital, early Friday morning welcomed sextuplets, the odds of which are estimated at one in 4.7 billion."
In 2009 Nadya Suleman gained fame from her own multiple birth experience. Nicknamed the Octomom for birthing eight babies through IVF. In addition to the octuplets, she has six other kids bringing the total to fourteen kids.
Her children have grown into lovely 9-year-olds, and even with all the criticism that came her way for some bad choices she made when times were hard, she has proven to be a great mother.
Nadya, who called Natalie nowadays, said,
"The octuplets are small for their age, but they're polite, the cook, they're vegan, they read two books a month and do their homework without being prompted. In spite of all the horror stories in the tabloids since birth, they're model fourth graders."
Please fill in your e-mail so we can share with you our top stories!