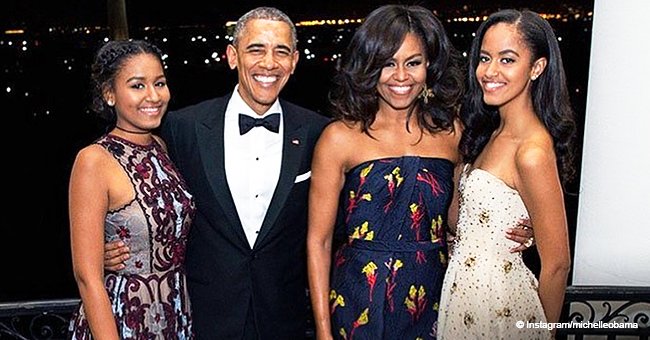 Michelle Obama gets candid of how Malia & Sasha Handled Themselves through Unusual Childhood

Michelle Obama shared intimate details about her family's years in the White House with Conan O'Brien.
Former First Lady Michelle Obama has opened up to Conan O'Brien on his podcast "Conan O'Brien Needs a Friend" and made startling revelations about her life in the White House.
She spoke about her husband's presidency, and her struggle to raise two normal children in such stressful conditions.
"We had to parent by creating this cocoon of normalcy in a pretty crazy, abnormal world."
PARENTING TWO CHILDREN IN THE WHITE HOUSE
For Michelle, the most daunting of all tasks that faced her at the beginning of her husband's stint in the White House was bringing up her two girls then 10, and 7.
The Obamas had to put in the hours, just like every other parent attending parent-teacher conferences and going to their games. What made it different was that they were accompanied by armed security agents every moment of the day, as were the children.
Michelle ended up hosting several sleepovers at the Presidential residence
SLEEPOVERS AT THE WHITE HOUSE
Michelle revealed that her daughters had thought that their friends wouldn't want to come for sleepovers at the White House, and were embarrassed by their father being President.
BEING NORMAL LITTLE GIRLS WITH SECRET SERVICE BODYGUARDS
Michelle ended up hosting several sleepovers at the Presidential residence, and her daughters were allowed to sleepover at friends too - accompanied by their secret service bodyguards
GOING TO THE PROM AS A FIRST DAUGHTER
Another landmark moment was Malia's prom, for which her beau drove up the imposing White House and knocked on the door to escort the First Daughter to the prom while the President, as nervous as any other dad, looked on.
"I am in awe of my children for the way they have managed this whole thing with poise and grace."
The two Obama daughters are now young women of 20 and 17. Malia is now at college, and Sasha is finishing highschool in Washington DC. Their utterly normal lives and healthy outlook is a credit to their parents and to their own resileince,
SUPPORT FOR THE OBAMA GIRLS FROM THE FIRST DAUGHTERS
Michelle Obama revealed that First Daughters Jenna and Barbara Bush, and Chelsea Clinton had reached out to her daughters when Barack Obama took office, and offered their support.
In January 2017, the twins wrote an open letter to the Malia and Sasha with some tips on how to face the difficult challenge of being a President's child:
"You have listened to harsh criticism of your parents by people who had never even met them. You stood by as your precious parents were reduced to headlines. Your parents, who put you first and who not only showed you but gave you the world. As always, they will be rooting for you as you begin your next chapter. And so will we."
Like Malia and Sasha Obama, Jenna and Barbara Bush lived in the White House for 8 years from 2001 until 2009; while Chelsea endured only one term as First Daughter from 1993 until 2001.
Please fill in your e-mail so we can share with you our top stories!