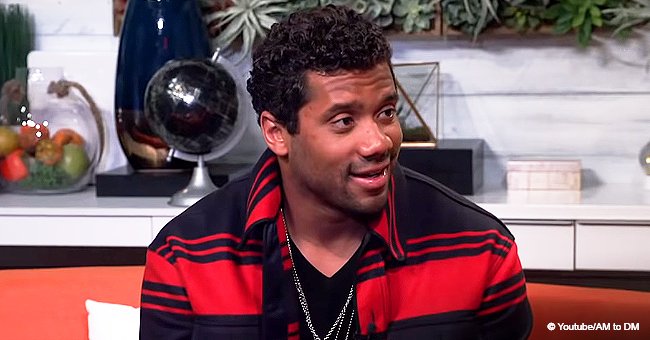 Russell Wilson Melts Hearts Describing Life as a Proud Stepdad to Ciara's Son Future (Video)

Russell Wilson has our hearts in a puddle after he opened up about being a stepdad to his wife Ciara's son with her ex-fiancé, rapper Future.
The singer welcomed her first child, Future Jr. in 2014 and two years later, married Wilson. The couple has since welcomed a daughter together, Sienna, but that hasn't stopped Wilson from being the best dad to Future Jr.
In a recent sit-down with BuzzFeed's daily morning show "AM2DM," the NFL player opened up some more about his relationship with his stepson and how it helped him discover real love.
"You'd already started going around my kid when Y'all started going together, and you haven't even talked to me."
"In terms of tips, I mean, you know being there for your kids, you know, tucking them down, putting them to bed, going to as many things as you can," he said, adding:
"And I think ultimately—you know the thing that I've learned the most and I think this is real, the thing that I've learned the most is that being a stepdad and then also having our little daughter too as well, being a stepdad, you really find out what love's like. It's interesting. It's easy to love somebody that's blood and everything else, but when you can love somebody just like it's your own child and everything else, that's what real love is like."
You could see the pride and love in Wilson's eyes as he spoke about seeing Future Jr walk for the first time, "taking him to Little League practice," and making school runs.
Ciara and Wilson make no apologies for showing off their one, big, happy, blended family; not even when online trolls try to ruin their blessing.
Last October, some folks made a big deal out of an innocent video showing Wilson and Future Jr. on a "Guys Night." For some reason, they believed the video was disrespectful to Future Jr's birth dad and proceeded to call out the NFL star in his comment section.
Rapper Future seemed to share similar sentiments when he slammed Wilson earlier this year, saying the latter is "not being a man."
"You'd already started going around my kid when Y'all started going together, and you haven't even talked to me, and Y'all got married, and she said 'Oh I want you to meet Russell.' Why would I want to meet him now?! Y'all already did the damage!"
Wilson is not one to engage in a social media back-and-forth, but the fact that he hasn't stopped sharing precious moments with his stepson is a clear enough message.
Pray, tell, why won't Ciara call him her #GreatestLove?
Please fill in your e-mail so we can share with you our top stories!