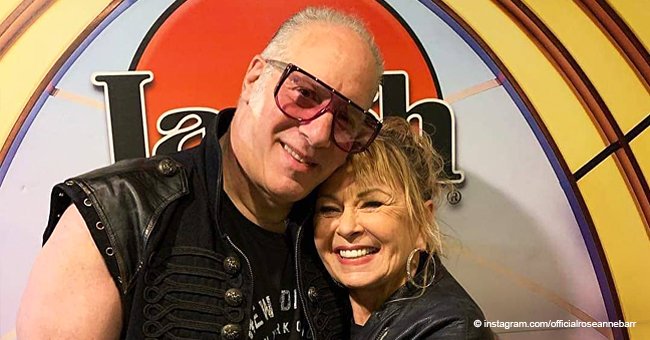 Roseanne Barr Makes Her Return to the Stand-Up Stage, and Video Shows Her Hilarious Dancing

The ousted ABC star, Roseanne Barr, went back to her stand-up comedy roots recently, and her lively dancing was captured on video.
Barr, 66, showed up at Tropicana's Laugh Factory in Las Vegas, where another controversial comedy legend, Andrew Dice Clay, was on stage.
"She hadn't been onstage since she got fired from ABC, and last night made so many people laugh, and they loved her."
The owner immediately approached Clay, 61, and told him about Barr's presence. Clay then introduced Barr to the crowd, saying:
"A close friend of mine, I'd say about 33 years. There haven't been many as controversial, as outspoken or as f—kin' funny. Let's hear it for Roseanne Barr!"
The actress-comedian got overwhelming applause from the majority of the audience. It was her first live performance since her hit show, the "Roseanne" reboot, was canceled by ABC.
EXPRESSING SUPPORT
Clay took to his Instagram account to share a series of videos of Barr's guest appearance. One of the clips shows the pair dancing onstage together after the show.
Clay also posted a photo of himself with Barr, showing his support for her. He wrote:
"She hadn't been onstage since she got fired from ABC, and last night made so many people laugh, and they loved her. We are the comedians of this crumbling world, but we are human and sometimes screw up ... Our job is to keep you laughing amongst the [chaos] of a world going through pain."
"She was nervous and afraid last night," he added, "but once the audience laughed, she was right back in the groove and crushed. So proud of her!"
A FIRESTORM OF CONTROVERSY
In May 2017, ABC announced the revival of "Roseanne." The new season debuted in March 2018 with over 27 million viewers.
Many people applauded the show for tackling controversial subjects that includes race, gender fluidity, and politics.
However, the show was canceled on May 29, 2018, after Barr tweeted a rude comment about Valerie Jarrett, the former senior advisor to President Barack Obama.
In her tweet, she said if the Muslim Brother and Planet of the Apes had a baby, it would be Jarrett.
Jarrett is an African American woman with no connection to the Muslim Brotherhood and served as the Director of the Office of Public Engagement and Intergorvernmanetla Affairs while former President Obama was in office.
In the aftermath of her remark, Barr tweeted that "Islam isn't a race, lefties," along with several other tweets claiming her "joke" had nothing to do with race or color.
She has since deleted most of her tweets and apologized to "Jarrett and all Americans" for a joke that was in poor taste.
Please fill in your e-mail so we can share with you our top stories!