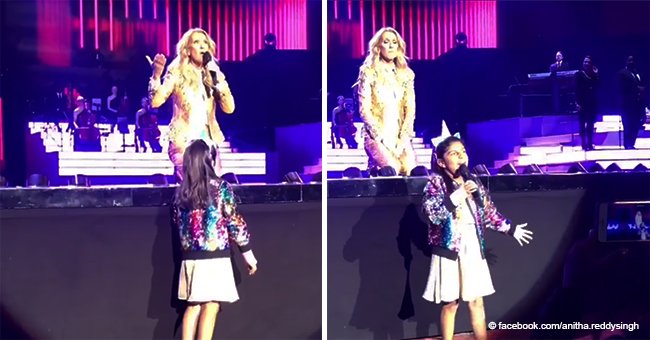 7-Year-Old Gets the Chance of a Lifetime to Sing at a Céline Dion Concert and Blows Everyone Away
A little girl had the incredible opportunity to sing and surprise everyone at the Celine Dion concert during her residency in Las Vegas.
On March 15, Anjali Singh, 7 years old, was taken to the stage in Dion's residency program in Las Vegas, where she had the opportunity to meet the singer and also was able to offer a surprising performance in front of the star.
Apparently, the little girl had managed to pass a note to the Grammy winner asking her to let her sing with her. "I'll give you my microphone, and you can turn around and sing at the Las Vegas Coliseum," Dion told Singh.
Singh took the microphone, wearing a unicorn headband on his head and a shy smile turned to the audience and played the ballad of the 2002 star "I Surrender" with an impressive performance that won the applause of the crowd.
Dion was visibly surprised by the voice of the little girl, she tenderly offered her a hug and a kiss, and got on her knees to thank the second-grade student. The renowned singer even requested an autograph from the girl who handed it to her right there in the middle of the presentation.
After singing, Anjali gave Dion a handmade letter in which she said how much she liked her, while also taking the opportunity to ask her if she could start following her on Instagram.
According to Anjali's mother, her daughter has the dream of becoming a singer when she grows up and little by little she gets ready to get it. Even before singing in the stage with Dion, the little girl had already made some appearances in public.
Anjali has performed at local farmers markets and has sung the national anthem at sporting events at USC and UCLA, and even auditioned for "America's Got Talent." You can follow the adventures of this little star in her YouTube and Instagram pages.
There is something special and unique in every person. It is the particular blessing each individual brings with him or her to this world. Sometimes it is an incredible talent that will leave others speechless.
This boy's shattered everyone's assumptions when he timidly took to the stage to perform a very difficult song. But not only he managed to master the song, but he also added his own unique style to it.
Abu stepped on stage for a blind audition for The Voice Kids Belgium, visibly nervous and shy. His unconfident appearance and behavior made the audience curious about how he was going to sound.
When the music started to play and the public recognized the extremely popular and challenging tune to sing the boy had picked, they thought they were in for a potential disaster.
Please fill in your e-mail so we can share with you our top stories!