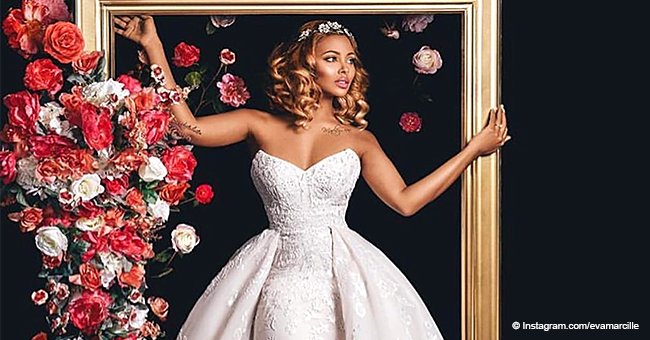 Eva Marcille Claps Back at Criticism of Her $1,000 per Person Wedding: 'I Paid for My Own Wedding'

Eva Marcelle slammed her haters after they criticized her decision to spend $1000 per person on her wedding with Michael Sterling.
Eva Marcelle wanted nothing but the best of everything for her dream wedding with Michael Sterling, and that came with a hefty price tag of $350,000. The "Real Housewives of Atlanta" star had a lot to say about people thinking she went overboard on her wedding, even hinting that she didn't pay for it herself.
"Let's be very clear - I paid for my own wedding."
Through an Instagram video, she clarified that she paid for her own wedding, and she did not have to get a loan for it.
The topic of Eva's wedding with Michael came about on "Watch What Happens Live," when Andy Cohen asked Eva's co-stars, Kandi Burruss and Shamari DeVoe, if they thought Eva spending $1000 per guest was worth it.
DeVoe quickly said "no," while Burruss tried to defend her co-star by saying "it is a lifetime worth of memories" that they were celebrating on that day.
EVA SILENCING HER HATERS
Marcille, fed up with the questions that people were asking about the funding for her wedding, decided to set the record straight once and for all.
"There's this big curiosity about how much money I spent for my wedding, and how much per plate, and all this good stuff. Let's be very clear – I paid for my own wedding."
She adds that she didn't have to get a loan to pay for her wedding, nor did she have to borrow money from anyone else.
"There were no loans. Nothing was done on barter. And I don't know about the rest of you guys, but if you've ever planned a wedding – it's per person, not per plate. So when it comes to floral decor, when it comes to chairs- I didn't have plastic chairs. When it comes to tables, when it comes to the champagne you sip from the moment you walked into the door from the moment you left, from valet, to security, to lighting – to everything. I mean, I had musicians around the clock- like, let's be clear."
THE REAL COST OF EVA AND MICHAEL'S WEDDING
She finished the video by asking her haters to mind their own businesses and get their lives together, as she most certainly has. Marcelle concluded that when she says she spent $1000 per head, she didn't mean for food, but for the entire celebration, be it tables, chairs, beverages, and everything else.
In total, she revealed to Essence that she spent well over $350,000 after believing she could plan a beautiful wedding with a budget of just $80,000-100,000.
"I was naive enough to think that I can plan a wedding for $80 to $100,000. I spent well over $350,000."
AN ALLEGED SECRET WEDDING
Prior to her extravagant wedding, Eva was first rumored to have gotten married back in October 2018 in a secret ceremony. This private wedding did not require a lot of money spent, and was only witnessed by the couple's closest family and friends, including Eva's co-stars, Cynthia Bailey, Kandi Burruss, and Porsha Williams.
In an Instagram post that the reality TV star shared with her fans, she hinted that she was about to tie the know after writing the caption "Mine all mine. One more day until 10.7.18 I love you Michael Sterling and I can't wait!!!!"
She previously announced her engagement back in December 2017, revealing that she said yes to the love of her life.
Since then, Eva and Michael have been blissfully spending their days together, clearly enjoying married life.
Please fill in your e-mail so we can share with you our top stories!