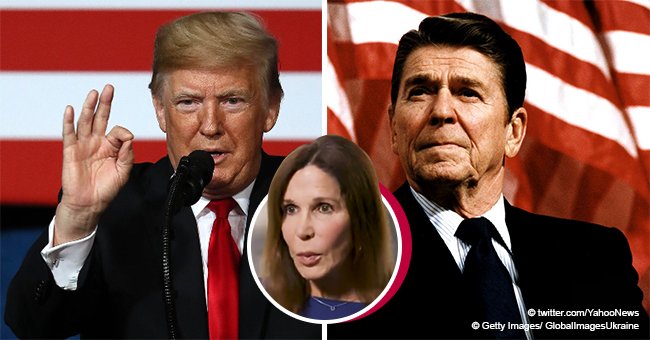 Reagan's Daughter Rips Trump Saying Her Father Would Be 'Horrified' by His Presidency
On Tuesday, former President Ronald Reagan's daughter appeared for an interview on the Yahoo News show "Through Her Eyes." There she spoke about the current presidency and its faults.
Reagan's daughter reflected on what her father would think of how the country was being run.
Patti Davis, the daughter of former President Ronald Reagan an authoress and former actress, accused President Donald Trump of using fear to divide the United States. She also claimed that he was "assaulting the constitution."
She also spoke about Trump's "Make America Great Again (MAGA)" slogan, which her father came up with during his presidency. Davis said the slogan had taken a completely different meaning.
The authoress explained, "What it seems to mean now is let's make America white again and racist again and small-minded." Speaking about her father's legacy she said, he'd wanted America to be the best it could be.
Davis added, "I think he would be heartbroken because he loved this country a lot and he believed in this country." Addressing the Republican fraction, which she isn't a part of; Reagan's daughter stated that she believed the party had completely changed from when her father was president.
She claimed that the Republicans in Congress were just sitting on the "sidelines and letting the Trump administration destroy this country." When asked by the host, Zainab Salbi, if she was suggesting Trump was endangering America's democracy she answered, "Of course, I am. I mean, he is."
Davis explained, "This is not the kind of country we're supposed to have." She also complained about the administration's "zero-tolerance" illegal immigration policy.
The policy has been criticized by many who feel that it led to families being separated at the southern border. She added:
"If you stir up fear in people, you weaken them. If you divide people, you weaken them. Everything [Trump] says is divisive. Look at his rallies."
The authoress also called on the masses to "speak up and stand up," warning that "we are going to lose this country" if they don't. During the interview, she spoke about her time as the first daughter, drug addiction, and the reconciliation she had with her father during his presidency.
Davis is well known for her political outspokenness. In the 1980s, she was involved in the anti-nuclear movement and she openly spoke out against some her father's policies.
Earlier this month, Representative Alexandria Ocasio-Cortez slammed politicians at the South by Southwest Conference & Festivals in Austin, Texas. She called their views "misplaced" in front of an audience.
The Democrat criticized how minorities were treated throughout American history. She called out Franklin Delano Roosevelt's New Deal, which she claimed was racist and Reagan's policies, which she said "pitted" white working class people against minorities.
Please fill in your e-mail so we can share with you our top stories!