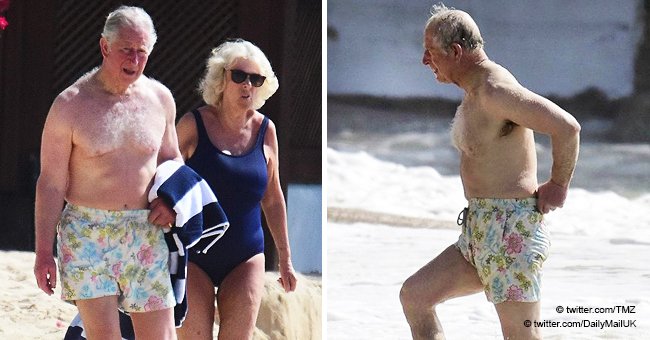 70-Year-Old Prince Charles Flashes His Toned Belly in Swim Trunks for the First Time in Years

Prince Charles took a vacation the Caribbean coast, just in time for the spring season. The hip 70-year-old rocked floral trunks while basking under the sun with Camilla.
Prince Charles and his wife, Camilla, took a short break from their busy royal tour in the Caribbean. The couple was spotted last Monday, along the shores of Barbados beach, soaking up the warm afternoon sun and catching some waves.
The prince, 70, wore trendy stylish floral printed trunks, while his wife, 71, wore a navy blue bathing suit. They two looked fashionably cool and cute for a royal couple in their 70's. Definitely, they are hip royals who are just out to have some fun!
Before joining Camilla by the beach, the prince had a dip in the water as a refresher, which he seemed to enjoy. After all, who wouldn't enjoy a little relaxation having a busy schedule like theirs?
The royal couple is currently on a 12-day tour in the Caribbean for their official visit. Prime Minister Allen Chastane welcomed them as soon as they landed in St. Lucia last Sunday.
Shortly after arrival, the prince attended an open-air event, where he said:
"The Commonwealth has been a cornerstone of my life for as long as I can remember and, through all the unprecedented global challenge of these past seven decades, it seems to me that the Commonwealth remains as vital today as it has ever been."
Charles previously visited the Caribbean when hurricanes Maria and Irma struck and caused destruction. He continued to address the issue of climate change and global warming, which can cause future catastrophes as well. He said:
"Importantly, the Commonwealth brings us together and gives us the means to harness shared opportunities, as well as to address common challenges."
"There is no greater challenge facing all of us, in my view, than that of global warming and climate change which, I know, poses nothing short of an existential threat to this island as it does to every part of this region."
He and camilla also met with the 69-year-old singer, Lionel Richie, as Charles named him an ambassador for The Prince's Trust International.
On this trip, the prince will discuss and learn more about the nation's disaster response system in the event of another natural calamity. Scheduled is also a visit to Nidhe Israel Synagogue, a Jewish place of worship.
On the other hand, Camilla is to attend a Big Lunch event and a Women of the World meeting. She has been attending events with the prince, who is set to be king. However, her role is yet to be determined.
Please fill in your e-mail so we can share with you our top stories!