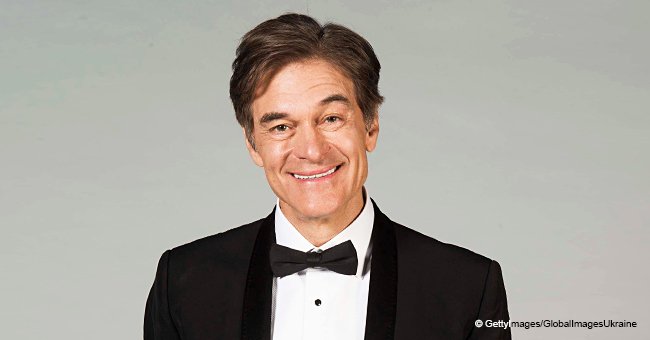 Dr. Oz Is Going to Become a Grandfather for the Fourth Time

Daphne Oz, daughter of daytime tv's "Dr. Oz," is set to become a mother of four and both she and the granddaddy are ecstatic.
The father and daughter both garnered fans thanks to their bubbly personalities and passion to help others with their health. Daphne was formerly a co-host on "The Chew" and has written several cookbooks.
Her father, Dr. Mehmet Oz, has been on our screens much longer with his show "Dr. Oz" on which he gives tips, discusses health myths, diagnoses, and assists persons facing serious health issues.
Daphne, 33, revealed the big news in an Instagram post last night which featured her wearing a fitted green dress with puffy sleeves and a high belt. Her tummy's size gave a clear indication that she is pregnant. The post is found below.
In the caption, she wrote:
"I do love to cook! bun in the oven #4 coming your way later this year and we couldn't be more excited!!"
According to PEOPLE, Daphne also shared the news on her new show "The Dish on Oz" by cracking three eggs that read:
"Springtime is near. By this time next year, a brand new baby will be here."
With that, Mehmet who is by his daughter's side confirmed: "Daphne is having my fourth grandchild!" The two then hug it out as they enjoy the sweet moment.
Mehmet has also already shared the news to his social media audience, however.
In the caption, he wrote:
"Oz baby #4 coming your way soon! I'm so happy to announce that my daughter @daphneoz and her husband John are expecting their fourth child."
Daphne already has three kids with husband John Jovanovic. They share five-year-old Philomena (daughter), three-year-old Jovan Jr (son), and one-year-old Domenica (daughter).
The couple has been together since college and got married in 2010. They had two religious ceremonies: one in the Synaxis of Serbian Saints Church in Portland and the other in Cumberland Foreside, Maine at the home of Daphne's maternal grandparents.
The pair's grandchildren are no stranger to the spotlight, much like their mother and grandfather. They appeared on "The Dr. Oz Show" in December 2018 and stole the show with their level of cuteness.
On his Instagram, Mehmet posted picture stories showing the two older children sitting in a makeup chair, another of them waiting to head on stage, and the last one of them making slime with their mom and Mehmet.
Both Mehmet and his daughter are very family oriented. Daphne last year spoke to MINI magazine about the possibility of having more kids. Lo and behold, she's already fulfilled her wishes.
She said at the time:
"I love it.I think that there's a part of me that worries that I will just miss any version [of my children]. These kids are all so different. They come out with these little personalities totally intact, and there are all these iterations of what you can create, so I want to see some more versions."
Mehmet also expressed his love for the little ones in a February 2017 interview:
"They know they can get anything they want from me! I spoil them with toys. We bought Philo an ice cream cart. There's no ice cream in it, but she pretends to sell it to us. She's very commercial!"
Please fill in your e-mail so we can share with you our top stories!