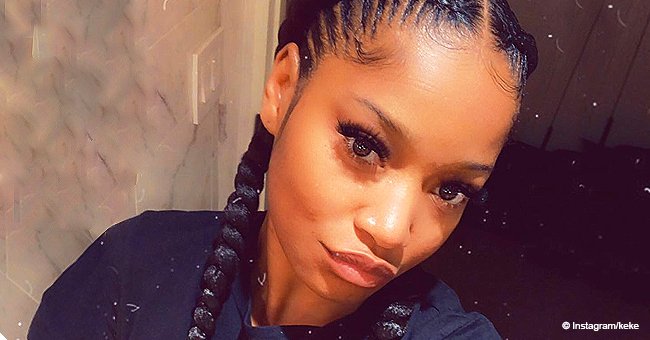 Keke Palmer Mesmerizes with Her 'Vixen Baby Doll Eyes' & Neatly Braided Hair in Stunning Photo
Keke Palmer looks stunning in a recent pic shared to Instagram, as she shows off her newly acquired lashes extensions. The actress has been taking social media by storm in between her fashionable outfits, funny sketches and encouraging words for young people of color that follow her.
The former Disney star is no longer the child fans first met on the screen.
At 25, Palmer is working hard to show off her maturity in all aspects. And in one of her recent Instagram selfies, Keke enchanted her fans with her "vixen" eyes, as she showed off her new lashes and her neatly braided hair.
"Giving you vixen baby doll eyes, courtesy of @daintylashmiami, you got me ALL in my camera sis! So beautiful, thank you — @hairby_shrimp on the brizaidsss," she captioned the post.
Fans were quick to fill the comment section with praises for Palmer, with most of them taking the chance to drop love declarations for the star.
"I love you Keke. From small girl to teen, young lady to grow woman, yassss I have been rockn wit u that long babe," wrote one user.
"Keke .. girl I love you. Been loving you .. ain't gone neva stop lovin' youuu!!" added another.
And a third one chimed in to say, "You are the perfect woman. I can't handle it, and congrats on the new movie!"
Palmer was recently confirmed to be part of the cast of "Hustlers," a movie that will follow the adventures of a group of former strippers that steal money from their wealthy clients. She will share the screen with Jennifer Lopez, Cardi B, Lili Reinhart, Constance Wu, and Julia Stiles.
Although the movie will start filming in a few days, Keke doesn't' lack professional commitments.
She recently hosted "The Wendy Williams Show," while Williams was on sick leave; released the music video for her single "Better to Have Loved," and became a "Future Maker" ambassador for AT&T's "Dream in Black" program.
"My confidence and pride in being a BLACK American is not a jab at any other culture. It's the expression of strength and resilience I found in the story of the people that look like me," Keke shared on Instagram while announcing her participation in the program. And continued:
"There are so many stereotypes and ideas that people have about the identity of 'being black,' and many of them are ridden with ignorance. I'm not sad to look back at a past that may include hurt and oppression because I also know it includes perseverance, strength and STRONG ROOTS IN FAITH and THAT is what I pull from. I'm so proud to be BLACK!"
Palmer is an inspiration for many young people out there, and she's aware she must use her position to spread awareness and self-love in her community.
"I just want them to know that they can achieve many things if they BELIEVE that they can," Keke says. "I know that sounds like a cliche or maybe even corny, but honestly it is the truth, you must believe that all things are possible. Having faith is so important."
Keke is also working in a new partnership with Conde Nast to develop a Facebook Watch show that will help seed Watch with the type of influencer-centric programming that is already rife on YouTube.
Please fill in your e-mail so we can share with you our top stories!