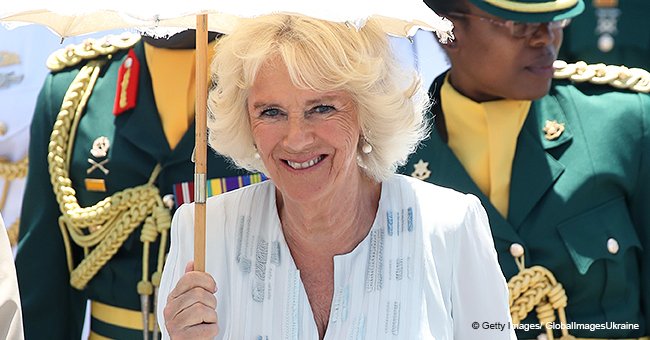 Duchess Camilla Rocks an Icy Blue Kaftan over Flowing Trousers While in Barbados
The Duchess of Cornwall looked stylish and relaxed during her and Prince Charles' visit to sunny Barbados on Tuesday as part of their Royal Caribbean tour.
Prepared for the island's warm climate, Camilla stepped out in an icy blue kaftan and loose matching pants which she accessorized with a cute wicker bag.
Prince Charles probably felt the heat a bit more with his stone colored suit as the couple attended to official business during their visit.
Camilla and Prince Charles met with the Governor General, Dame Sandra Mason, who is the Queen's representative on the Commonwealth island and also spoke with the first female prime minister of Barbados, Mia Mottley.
The future King of England officially named Lionel Richie as an ambassador for The Prince's Trust International during a reception at the Coral Reef Club Hotel in Folkestone, Barbados.
In the evening Lionel Richie joined the royal couple for a function held at Mia Mottley, Prime Minister of Barbados's residence.
The Duchess looked beautiful in an all-white two-piece ensemble, while Prince Charles swapped his stone colored suit for a more fitting navy pinstriped suit for the evening.
The Prince's Trust International support people ranging in age from 13 to 30 in Canada, India, Australia, Jordan, Pakistan, and Malta and founded in November 2015 by Prince Charles.
As an extension of The Prince's Trust, the program as a whole helped almost a million people improve their lives over the past 43 years.
The royal couple started their packed 13-day tour of the Caribbean earlier this week and is set to participate in over 50 engagements spread across ten different islands.
Making the most of the warm island weather, Prince Charles and Camilla took some time to relax on the beach in Barbados on Monday before their hectic schedule kicked in.
But as we all know, the paparazzi are everywhere and pictures posted of the couple on the beach while enjoying the warm tropical water caused an upset of sorts.
A letter reportedly got sent by Prince Charles's solicitor to all the press organizations who used the pictures "highlighting his reasonable expectation to privacy."
Press Association noted that pictures of Prince Charles and Camilla taken "during private downtime" happened on behalf of the Government, while Clarence House is yet to comment on the issue.
The couple is set to visit Cuba in a few days and will be the first members of the royal family to make an official visit to the country.
With the royal family frequently headlining news, one would think that most things about them would be public knowledge; however, there are a few things about Prince Charles people tend to ignore.
Please fill in your e-mail so we can share with you our top stories!