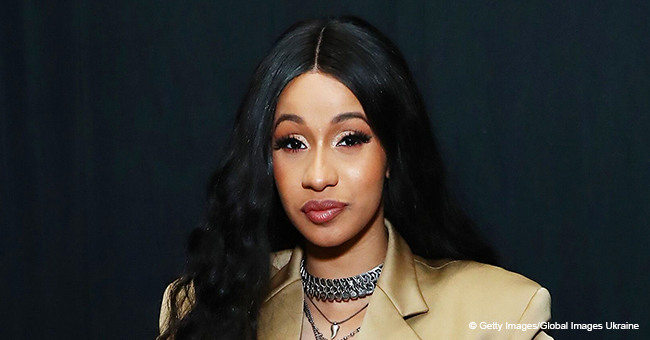 'Heaven Gained the Prettiest Angel,' Cardi B Posts Heartfelt Tribute to Fan Who Died from Cancer

Cardi B reminisced the first time she met her fan who recently passed away. She shared a photo of the two of them where she was hugging the young lady's frail body.
Cardi B took time out from her busy schedule to pay tribute to a fan who passed away. She took to her Instagram and shared a photo of the two of them while remembering the young lady's impact on her life.
"This makes me so sad," the rapper wrote referring to the death of her fan Alaysia Crockett after battling cancer. "RIP babygirl. My condolence to her wonderful parents and family."
Cardi then recalled the first time she met Alaysia which was also represented by the photo she shared.
"When I met this young lady i literally had to hold her and put her against my body cause she couldn't barely stand yet she was sooo happy in a great spirit and her make up on super fleek her parents were so happy"
In the photo, Alaysia wore a turban to cover her bald head no doubt due to the treatments she was receiving for her illness. She was evidently glowing beside her idol who wrapped her arms around her.
"Heaven gained the prettiest angel your not in pain anymore [broken heart emojis] Alaysia Crockett!!" Cardi added in her caption before slamming cancer with an expletive.
Shortly after, her post gained nearly 4 million likes. Along with fans who empathized with the singer, celebrities Diddy and Chance the Rapper also chimed in.
It was only a few days ago when Cardi's was in a happier mood after bagging the Hip Hop Artist of the Year award at the 2019 iHeartRadio Music Awards. Though she couldn't physically be there at the show, she sent a video of her acceptance speech. She was nominated in 14 categories and proved victorious in 2 including Best Collaboration Award with Bruno Mars for their song, "Finesse."
In her speech, she thanked not just her supporters but her haters too. She acknowledged them for encouraging them to do better. She even licked her award at the end.
Cardi is clearly at the top of her game with her awards and sky-rocketing record sales. It's sad that one of her fans won't get to see her soar higher in the coming years but Alaysia is, no doubt, soaring even higher as we speak.
Please fill in your e-mail so we can share with you our top stories!