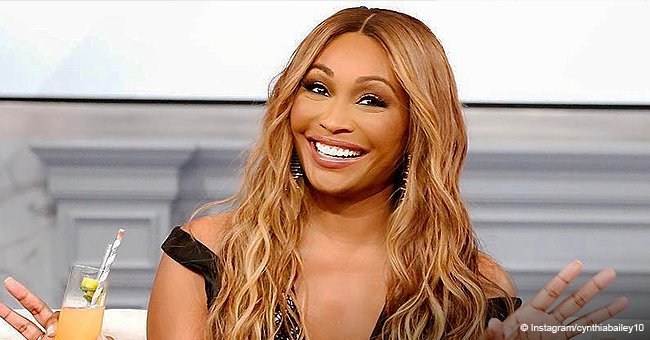 Cynthia Bailey Cuddles with Kenya Moore's Baby in Recent Pics after NeNe Leakes Called Her 'Sneaky'
Cynthia Bailey recently melted hearts all over social media after sharing a series of pics cuddling with baby Brooklyn Daly, Kenya Moore's daughter. The pics come just a few days after "RHOA" co-star Nene Leakes referred to Cynthia as "sneaky" and said they're no longer friends.
Despite all of the drama surrounding the upcoming "Real Housewives of Atlanta" final reunion of the season, Cynthia Bailey remains unbothered as she chooses to spend her free time in the sweet company of her friend's baby.
In pics shared to Instagram, Bailey shared two pics and a video with Kenya Moore's 4-month-old daughter, Brooklyn. In the pics, Cynthia is seen cuddling with the baby and gently kissing her forehead.
The clip shows Brooklyn giggling while donning a bib, as Bailey tries to get her attention in the background.
"I believe in angels @thekenyamoore @thebrooklyndaly #brooklyndaly #thebabysitter #mommybreak #love #aunticynt," Cynthia captioned the adorable post.
Fans immediately took over the comment section to gush about the adorable baby and praise Cynthia and Kenya's friendship. "She is an adorable little miracle angel baby. I'm extremely happy for Kenya and Marc but especially Kenya," wrote one user.
"Brooklyn looks so pretty with her auntie beautiful Cynthia," another added.
And a third one chimed in saying, "Cynthia and Kenya are the real deal besties. Glad you two are sharing the best times of your life. Nothing else matters."
While Cynthia babysits for her friend, "RHOA" co-star Nene Leakes has been throwing shade at her for allegedly doing something "very sneaky and underhanded."
After recording the final reunion of the season, Leakes went on to unfollow all the ladies of the cast, except for Shamari DeVoe. She recently made an Instagram live to explain her position, saying that she doesn't have to follow the ladies because she doesn't care about them.
"Cynthia did something in the finale that just doesn't work for me," Leakes added about Bailey. "You won't see everything, but I think you will get the point. There were some other things… I asked her a lot of stuff, and she lied and lied and lied and lied. 'Til finally, this finale really shows the sneaky, underhanded, Cynthia Bailey."
However, Leakes mentioned that she doesn't have hate in her heart for Cynthia, but from now on, they're strictly co-workers and nothing more.
Some die-hard fans of the show are speculating that Bailey is trying to bring Kenya Moore on the show, and considering Moore and Leakes' history, Nene might be upset about the situation.
This season finale is already full of expectations, and hopefully, it will give some answers to the housewives' words and actions from the past week.
Please fill in your e-mail so we can share with you our top stories!