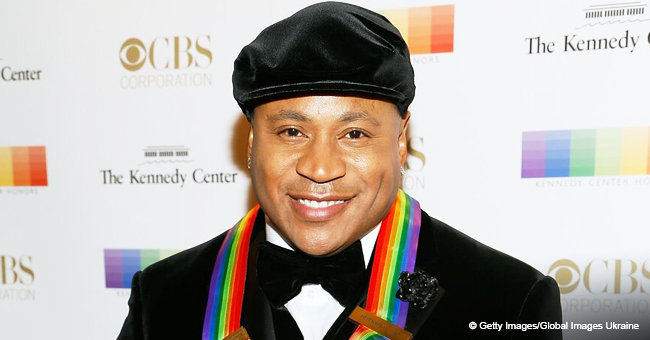 LL Cool J's Family Celebrates His Grandson King James' 1st Birthday in Adorable Photos
LL Cool J's first and only grandson, for now, celebrated one year of life a few days ago and the family couldn't stop gushing about the adorable boy. King James was showered with kisses, well-wishes and a luxurious gift from one of his aunts.
The Smith family is rejoicing while celebrating the first birthday of King James, the son of Italia Smith, LL's second eldest daughter, and her husband, Lamar Cardinez.
Simone Smith, LL Cool J's wife, took to Instagram to share an adorable snap where she's holding her grandson and smiling sweetly at him while King plays with her necklaces. And added in the caption:
"Happy 1st Birthday Kingy!!! MoMa's baby. He brings me so much JOY!!! #KingJames #grandson #lovehim #blessed #godisgood #godandfamilyfirst."
Samaria Leah, King's aunt, made sure to give the boy a gift that he will remember, as she shared a pic of the boy playing around with a mini Mercedes Benz G55 in silver that she presented to him with a red bow on top.
Samaria captioned her pic: "Happy 1st Birthday to my Kingy! You know titi had to ball out for you! Love you to the moon & back a trillion times! #ridingdirty."
Italia couldn't be left out of the social media messages, and she shared an adorable pic of her son smashing his first birthday cake.
In the pic, King James is wearing a black t-shirt with a white bowtie printed on it and khaki pants. The toddler has frosting in his hands and feet, and his Elmo cake is partly destroyed, with only the front side remaining intact after he dived into it.
"1 year around the sun with this little LIGHT of mine. You have been the biggest blessing to our lives. We love you to pieces. Happy Birthday, Kingy King!," Italia captioned the photo.
Fans took over the comment section to send their best wishes for the boy.
"That poor cake didn't stand a chance - all boy!" wrote one user.
Another added, "He's a cutie. Happy 1st Birthday King James...there's something in a name! @sislovespurple Beautiful Grandson u have."
And a third one chimed in to say,
"Such a Beautiful baby. Congrats to your parents & May God Bless and continue to bless the lil' darling with many more special days throughout your entire life."
Last year, Simone Smith dedicated a few heartwarming words for Italia and son-in-law on Father's day. She posted a sweet snap of Italia hugging Lamar, while their son peacefully slept in a baby stroller right in front of them.
The older Smith then proceeded to greet her daughter and son for their first wedding anniversary, and also for Lamar's first father's day.
"Thank you so much for blessing us with our first grandchild King-James," she wrote. And continued:
"May God continue to bless your marriage and your beautiful family as it grows, with abundant love, peace, joy, success, good health, wealth, happiness, and unity (togetherness). never let anyone (family, friend, or colleague) come between your marriage. I love & admire you both. Walk together in GOD's light. Let him guide your footsteps. Happy Anniversary!!!! Happy Father's Day Lam!!!! Love, MoMa."
Likewise, LL Cool J has nothing but kind words for his son-in-law. Speaking to Extra, the "Lip Sync Battle" host said of his daughter's wedding: "I didn't lose a daughter, I gained a son. That was fun; you know what I'm saying? Beautiful ceremony."
Please fill in your e-mail so we can share with you our top stories!