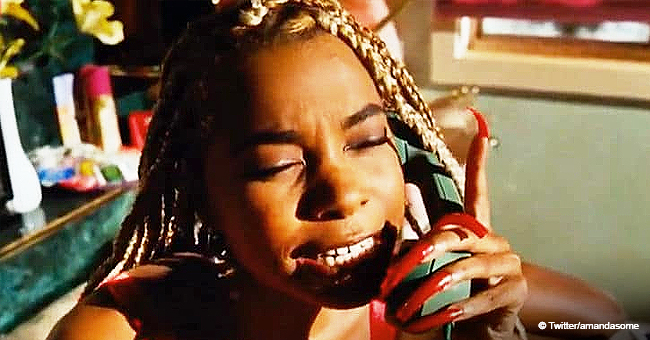 Remember Craig's Girlfriend from 'Friday'? She Once Opened up about a Time When She Was Homeless

Actress Paula Jai Parker revealed on "Hollywood Divas" that she had been homeless after being blackballed by her Hollywood celebrity friends
Fans were astounded to learn that actress Paula Jai Parker from "Friday" has gone through some difficult moments in her life, and was even homeless.
These revelations came to light in "Hollywood Divas," a series that exposes the dark side of fame and fortune in the Movie Mecca.
HOW PAULA JAI PARKER'S FRIENDS REJECTED HER
Like the other celebrities featured in "Hollywood Divas," Parker found out the hard way that stepping over the line of what Hollywood considers acceptable can carry a high price.
When Parker married a production aide she suddenly found herself blackballed in the industry, and shunned by her former friends.
Parker had to move into an extended stay hotel with her husband and her son, Onederful, now 11.
FROM THE TOP OF THE WORLD TO THE BOTTOM OF THE PILE
In 2004, Parker married Forrest Martin, whom she met on the set of "Hustle & Flow", where he was working as an intern. From then on, her career hit rock bottom, as work dried up, and the calls stopped coming.
HITTING THE AUDITIONS ALONGSIDE THE UNKNOWNS
As her reserves dried up, Parker had to move into an extended stay hotel with her husband and her son, Onederful, now 11.
The star of "Friday," "Sprung," "Why Do Fools Fall in Love," "Phone Booth," "Hustle & Flow," and "Idlewild," suddenly found herself auditioning next to unknowns.
REBUILDING HER CAREER IN INDEPENDENT FILMS
Parker, whose career spans 20 years, had to work in independent films, rebuilding her career one minor role at the time - often earning as little as $100 a day on shoe-string productions.
Parker attributes her difficulties to Hollywood's "buddy system" and cliquish community. The actress is now working with TV One's reality show "Hollywood Divas" alongside Countess Vaughn, Lisa Wu, Golden Brooks, Elisa Neal, and Malika Haqq.
NEW SEASON OF "HOLLYWOOD DIVAS" STARTS OFF WITH A BANG
Paula Jai Parker shocking revelation that she was once homeless is but one of the surprises the new season of "Hollywood Divas" has in store for fans.
Parker's assertion that she had been "blackballed" was taken with a pinch of salt by Elise Neal who revealed in the confessional:
"I 100 percent do not think that Paula Jai Parker or her husband was blackballed in the industry. In my opinion, she doesn't take the time to nurture relationships."
The relationship between the "DIvas" as they strive to bring their lives toigether again, and reignite their Hollywood careers is guaranteed to keep viewers riveted.
Please fill in your e-mail so we can share with you our top stories!