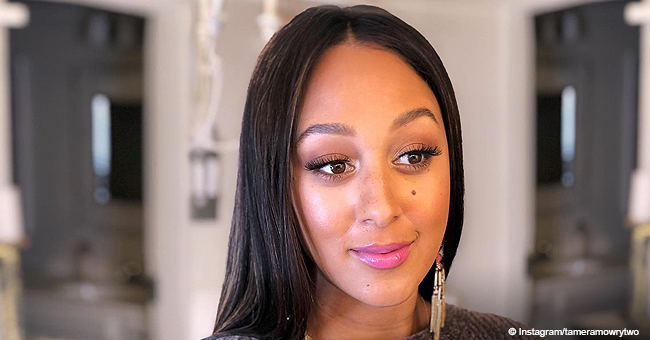 Tamera Mowry Recalls Being Charmed by Jay-Z in Her 20s and the BeyHive Comes for Her

Tamera Mowry gets swarmed with bees after opening up about being attracted to Jay-Z during their first encounter. The talk show host said they met when neither of them was married and gum was involved.
Tamera Mowry should have thought twice before taking a trip down memory lane. She recently opened up about being charmed by rapper Jay-Z in the past and the Beyhive pounced on her.
Everyone knows Beyonce's fans won't stand for anyone who gets in between her marriage to Jay-Z. So when Tamera innocently discussed her past encounter with the rapper on her show, "The Real," it wasn't pleasant for her after.
Tamera shared that she met Jay-Z way before they each settled down with their spouses. "You do get like hit with the charm," she admits of her encounter with the music mogul.
"I found myself strangely asking for gum. It's so weird! I swear. My sister and I were at a premiere 'Nutty Professor' and he walked by. And I was like 'Oh my God that's JAY-Z!' I was like 'Can I have some gum?' And he gave me some gum."
But despite Mowry's insistence Jay-Z wasn't remotely connected to Beyonce at the time and she was 23 and single, with no Adam Housley (her husband) in the picture, the Beyhive swarmed all over her Instagram's comments section.
"Why you reminiscing on a married man?" one annoyed fan wrote next dozens of bee emojis.
"NEXT TIME TREAD LIGHTLY AND WATCH WHAT YOU SAY," added another before flooding her comment with bees.
Fans of Beyonce are particularly touchy with the subject of other women around Jay-Z after the rapper admitted on cheating on his wife in the past. It was around the time when Beyonce released her album "Lemonade" and Jay-Z released his "4:44." Both shed light on the ongoing struggle in their marriage due to Jay-Z's infidelity.
Jay-Z fought to save their marriage which was on the brink of divorce at the time. Luckily for the couple, they weathered the storm and managed to celebrate their 10thyear of marriage last year.
Meanwhile, Tamera has been happily married to Adam since 2011 and they share two kids. Incidentally, after the host's Jay-Z confession on her show, a fan commented that she was certain the former child star was pregnant. She immediately corrected the misconception by clapping back.
"OMG [Oh My God]. You look pregnant, too! Hate to break it to you. I'm not."
Tamera has been very vocal and firm about not wanting to have any more children. She said in the past that she's "done, done, done." This is probably the reason why she immediately reacted to the fan's comment. Unlike her encounter with Jay-Z, pregnancy is a topic she never intends to revisit.
Please fill in your e-mail so we can share with you our top stories!