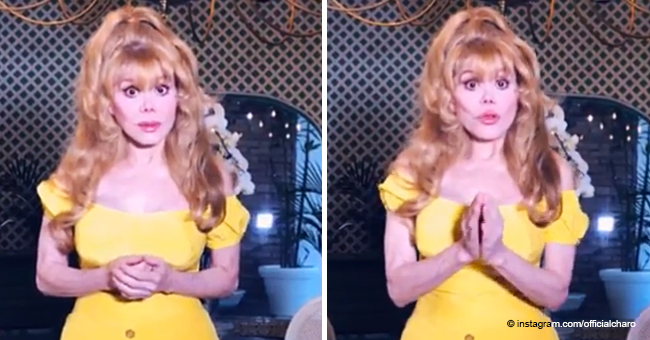 Charo Thanks Fans for Support and Prayers after the Death of Her Husband
The Spanish-American actress and renowned flamenco guitarist took to social media to thank her fans for their support one month after her 79-year-old husband took his own life.
68-year-old singer and actress Charo, whose real name is Maria del Rosario Pilar Martinez Molina Baeza, had been married to late Kjell Rasten since 1978. Rasten died from a self-inflicted wound on February 18.
In an English message with some words in Spanish, Charo expressed her gratitude to all the people who have sent her positive and encouraging messages online to help her cope with her devastating loss.
"Hola amigos, this message is to let you know that I love you all! Thank you for your support. I want to tell you that life is very beautiful and we should enjoy every Single day and I look forward to sharing my days with you, my friends! Mucho amor!"
-Charo, Instagram, March 21, 2019.
Wearing a yellow dress, a visibly touched Charo stood in front of the camera to record a video message, stating that the incredible support she has received by her fans and followers kept her going through this personal tragedy.
"I want to share with you that I will continue [to perform] for his legacy and the love that I have for entertaining that make people happy," the "Love Boat" star shared after saying that Rasten was the biggest supporter of her music.
Rasten was a Californian businessman, manager, and producer. He produced shows like "Late Night," "International Championship of Magic," and "Robert Young with the Young."
He also served as his wife's manager during the more than 40 years they were together. The two had one son named Shel, who is now 37 years old and is a musician like his mother. He plays the drums in a band called Treazen.
In a tribute to Rasten on Instagram, Charo said that her husband was "an amazing man, a great husband and the best father I could imagine to our son."
She revealed that the depression and the skin condition "along with the many medications he needed to take, became too much for him, and he ended his suffering."
Contrary to his wife, Rasten preferred to be away from the spotlight, but he had his share of exposition when he appeared alongside Charo in "Celebrity Wife Swap."
Charo, nicknamed "the Cuchi Cuchi Girl" because of her signature phrase, studied classical guitar with Spanish musician Andres Segovia since she was 14, after winning a scholarship.
She left Spain at an early age fleeing to Casablanca during the dictatorship of Francisco Franco. In 1977 she became a US citizen. She has released six albums with her music and has appeared in more than 10 feature films.
Please fill in your e-mail so we can share with you our top stories!