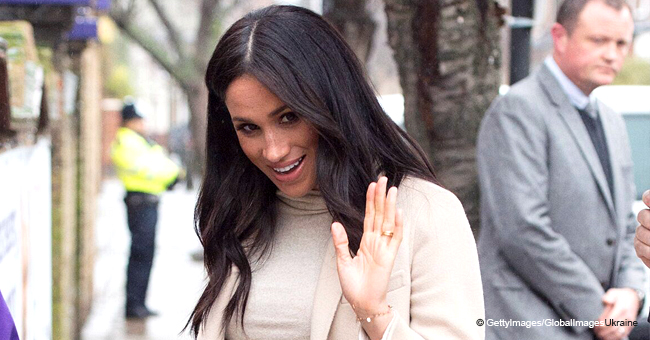 Meghan Markle's Maternity Wardrobe Cost Revealed and It's Rather Impressive

Since the Duchess of Sussex announced the coming of her first child last October, she has worn exactly 75 outfits and guess what the total cost is? The popular fashion search engine, "Love The Sales" has taken some time out to do proper research and compile all of Meghan's maternity outfits since last October; all 75 outfits cost a whopping $632,000!
The fashion-forward duchess has adorned herself with mostly custom made outfits by exotic designers like "Victoria Beckham," "Givenchy" and "Oscar de la Renta."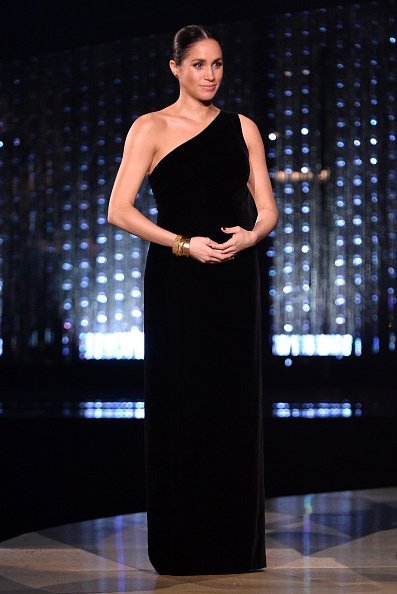 Meghan, Duchess of Sussex on stage during The Fashion Awards 2018 in London, England. | Photo: Getty Images
Even though a lot of fashion outlets would love to merely give Meghan and other royals some of their best ensembles, it's against the rules. Royals aren't allowed to accept such gifts; all their wears must be paid for.
Meghan is evidently very stylish and very pricey, so British taxpayers won't be okay with spending all that money for the Duchess' wardrobe, that's why, like many other of Meghan's expenses, Prince Charles takes care of it.
And So far, with that figure, Meghan has spent over seven times the cost of Kate Middleton's maternity wardrobe, and it's not over yet. Meghan's most expensive maternity outfit yet is the custom black and white "Oscar de la Renta" dress she wore to the Geography Society Awards in October.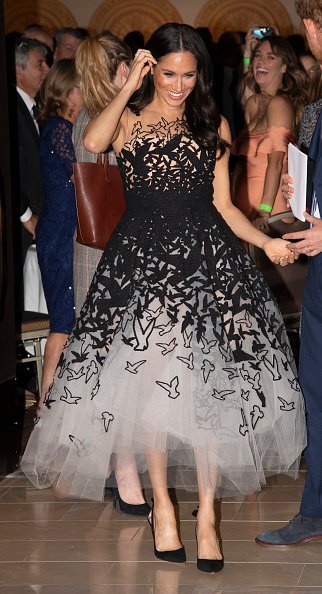 Meghan, Duchess of Sussex wearing a dress by "Oscar de la Renta" at the Australian Geographic Society Awards. | Photo: Getty Images
It cost $18,500, and it was beautiful! Not all of Meghan's wears were that pricey; in fact, she looked stunning in a $45 cream dress by "H&M" in January.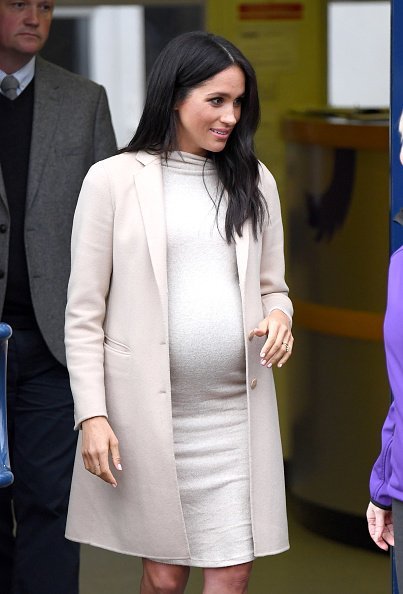 Meghan, Duchess Of Sussex wearing a dress by H&M in Mayhew Animal Welfare Charity in London, England. | Photo: Getty Images
H&M was lucky enough to benefit from the "Markle effect" through that particular dress, as it sold out within 24 hours. It even appeared on eBay at a retail price up 600 percent.
Another fashion item that merited its designer through the Markle effect was the "Vjay V-10" sneakers that Meghan wore in October. Searches for the sneaker spiked up by 300 percent.
Searches for Australian designer, "Karen Gee" also went up by about 5800 percent thanks to the Markle effect. She wore the brand's "Blessed" dress soon after announcing her pregnancy.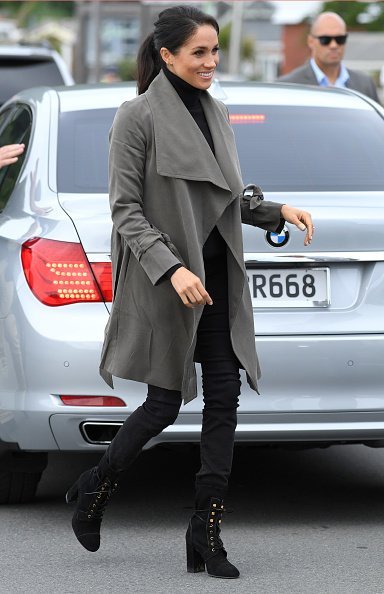 Meghan, Duchess of Sussex at the Maranui Cafe in Wellington, New Zealand. | Photo: Getty Images.
Sadly, we won't be seeing the Duchess and Prince Harry anytime soon as it's time for their holiday and they won't be attending any events or stunning the world with exotic outfits. Undoubtedly, soon after, the Duchess will continue to dazzle.
Please fill in your e-mail so we can share with you our top stories!