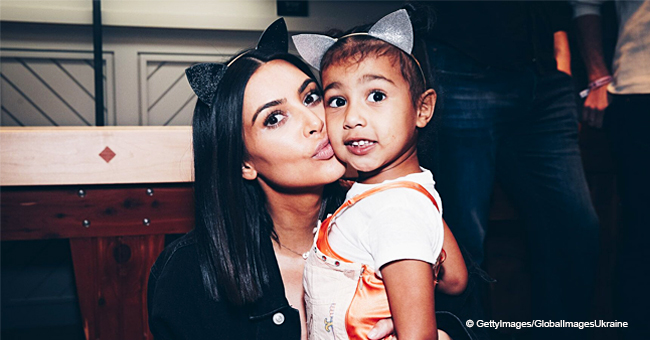 Kim Kardashian Sparks Heated Debates over Letting Her 5-Year-Old North Wear Lipstick to Church

The reality TV star, Kim Kardashian West, is being trolled on social media for letting her 5-year-old daughter, North West, dress like an adult to church services — wearing dark lipstick and donning a feathered slip dress.
The new trend in the Kardashian-West household is to organize Sunday services featuring celebrity attendees jamming to Kanye West music. And one person who does not take the back seat in these services is North West.
She has come to love these services as seen in her mom's social media posts. The five-year-old sometimes grabs the microphone, and at other times, displays her best dance moves.
Kim shared one of such posts on Twitter recently, with the caption:
"Her favorite part of the week is dancing during Sunday Service."
It shows the five-year-old dancing and having her best time at the service. This video has, however, attracted a lot of backlash from social media users, not because of her dancing, but her "teenage" look.
Quite a number of users have condemned Kim for allowing her to wear lipstick to church; they believe children should be taught to be comfortable in their skin.
A Twitter user, Nikki Lee, said:
"Ummmmmm... She's adorable but why so teenage looking. Just my opinion…"
Another user, Marie-Laure wrote:
"a child with a natural face is more beautiful and holy. It represents childhood because it shows innocence and the true."
There were other comments such as these:
"She's adorable but why is she wearing lipstick to church? She's too young for makeup in public."
"There is something really sad to me about seeing photos of five-year-old North wearing a feathered slip dress and black lipstick to 'church' services. Poor kid doesn't stand a chance."
However, not everyone believes North's look to church was not appropriate as some have defended her mom and complimented the 5-year-old.
Here's one of such comments:
"North wearing black lipstick to church is literally a whole mood for me."
This is not the first time the mother-of-three would spark debates over North's appearance. In December, she was criticized for allowing her to wear red lipstick to the family's Christmas party.
At the time, she defended herself by saying her daughter is into makeup, implying that she's only trying to encourage her. She also said she would set rules and guidelines for North's makeup usage. So, it's either that she never set those rules or just didn't enforce them.
Please fill in your e-mail so we can share with you our top stories!