Kim Kardashian gets shamed for letting daughter North, 5, wear makeup & high ponytail in new pic
Kim Kardashian was mommy shammed, again, for allowing her eldest daughter to play around with makeup. Little North recently walked on her first runaway, and at 5-years-old she seems to be enjoying the entertainment industry as much as her famous parents.
Kim Kardashian is often criticized for his motherhood skills, among other things, but these days trolls and haters seem to be zeroing on her daughter North to slam the reality star. Like any other little girl, North appears to be fond of makeup already, and since her mom owns a makeup line, is more than natural for the girl to be curious about the products.
In a recent pic shared by Kim on Instagram, North is rocking an orange dress and white sneakers, but not even her cute outfit could distract netizens from the pink eyeshadow and a bit of concealer on her face. Kim, wearing a pale snakeskin jacket and matching pants, was also rocking a full-on makeup face, and the duo wore matching high ponytails.
FANS' REACTIONS
But fans were not happy about North's makeup, and they let Kim know their exact thoughts on her comment section.
"STOP the makeup thing with North. Kim is tripping. She five man. North never smiles anymore," wrote one fed up user.
Another added, "Lmao north looks traumatized and she looks really white from her face is she wearing powder Kim??" and a third one said:
"Stop letting that baby wear makeup and to make it worse it's two shades too light help her embrace her natural beauty and melanin as a young princess should."
However, some of Kim's fans came to her defense; one wrote "I think it's ok. Every little Girl wants to play dress up, I also think its Kim Decision if she wants to let North wear makeup," and other added,
"I find it legit insane that in this day and age people are still bullying other people. She is beautiful, and you really need to stop putting down others and spread positivity."
LIKE MOTHER, LIKE DAUGHTER
Is not the first time and probably won't be the last that North is photographed wearing makeup. Earlier this year she was recorded by her mom while trying her new contouring palette, and later the same day, the toddler was rocking red lipstick.
However, Kim went ahead of the haters and explained that she let the girl wear the lipstick because she needs a bribe to get out of the door.
Maybe it happened the same this time around.
North seems to be developing a love for the cameras already, and she recently walked down her first-ever runaway as part of the "L.O.L Surprise Fashion Show" held at the Palisades Park in California.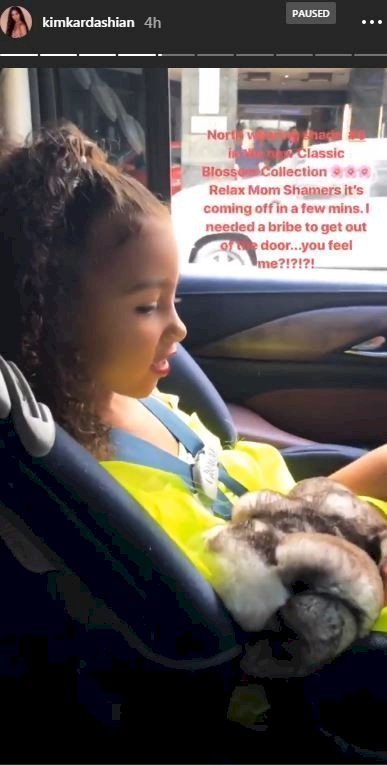 She got to dress up as her favorite character, Thrilla, whose outfit is a nod to Michael Jackson's "Thriller" look. North rocked a red leather jacket, and a matching skirt with a zipped up black top underneath, and completed the look with black loafers and white socks, a pair of sunglasses and a stylish black bag.