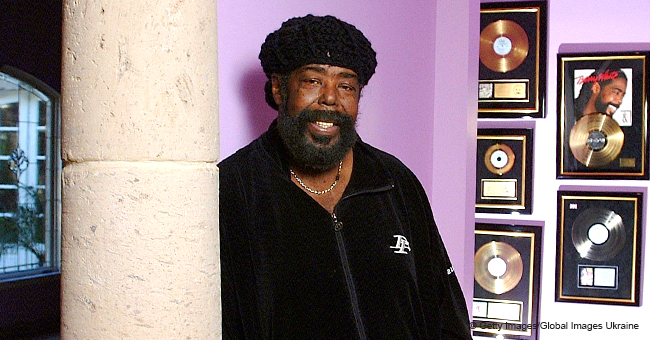 Remember Barry White? 2 of His Daughters Married Interracially & Blessed Him with 4 Grandkids
Barry White's memory lives on through his children. Two of his daughters are married interracially and already have children of their own.
The late 'Maestro," Barry White left behind a legacy of classic music. More importantly, he left behind a loving family to keep his memory alive.
He married his background singer, Glodean White on Independence Day in 1974. As fate would have it, he also passed away on Independence Day in 2003 from kidney failure at age 58.
However, the "Practice What You Preach" crooner and Glodean separated many years before his passing, they were never officially divorced. Barry had a total of 6 children.
Two daughters, Shaherah (40) and Bridgette White (50), with Glodean. The other four were from a previous marriage and another relationship.
His two daughters are very close to their Mother. They take after their parents and even sing occasionally with their mother as part of the revised Love Unlimited Trio.
The original trio from the '70s was made up of Glodean; her sister, Linda James; and their cousin, Diane Taylor. Besides following in the footsteps of their parent's soulful legacy, the girls are also happily married.
Both married interracially and are blessed with beautiful biracial children. Shaherah has one child while Bridgett has three children.
The girls both keep a relatively low profile and share only occasional glimpses of their families. Shaherah's husband in particular likes to stay off camera while Bridgett has posted a few pics of her family on Facebook.
In July last year, Shahera penned a heartfelt message to her father. In a lengthy caption to a picture of her father she wrote:
"10 months and 15 years later... There was definitely something God needed me to learn in the moment of loosing you... While most people were getting ready for barbecues, and celebrations on July 4th 2003, I was making calls to my mother, and siblings trying to break the news that the Dr had called and we needed to get to the hospital urgently. Angry, hurt, crushed so many emotions running through me. Things I knew I needed to do, as my honor, & dedication to you, in the immediate days that followed. And as the days progressed, and that demon, once again reared it's ugly head, tempting me with a deceptive outstretched hand of comfort, I knew I had completely broken... I began to fall. The more I grasped for anyone to really see me, the more I felt like I was invisible, totally unsupported. Things I had never felt as long as you were here. That deceptive hand began to tempt me more and I was soon in complete darkness. I didn't want to live... "
She continued saying her daughter, her mother and God helped her through the pain and darkness she felt after he passed. She then went on to reflect saying:
"And today as I look back I can see it all so clearly. I see how I found my voice in your silence. I see how I learned to stand when you could only lay. I see how losing your ever-present loving hand in my life, caused me to be engulfed in darkness, but brought me to anchor myself to the hand of the everlasting Love of God which abides in Light... And I've seen you everywhere over the past 15 years. I've seen you in the music, of course. But I've also seen you in the scriptures. And in the faces of Angels that have been sent to walk and sometimes, carry me. I've seen you in mirrors, and I've seen you in LOVE... I'm stronger today than I was then. It hasn't been easy, and it does hurt from time to time. I just get still and know...I love you, daddy, 4ever."
Please fill in your e-mail so we can share with you our top stories!