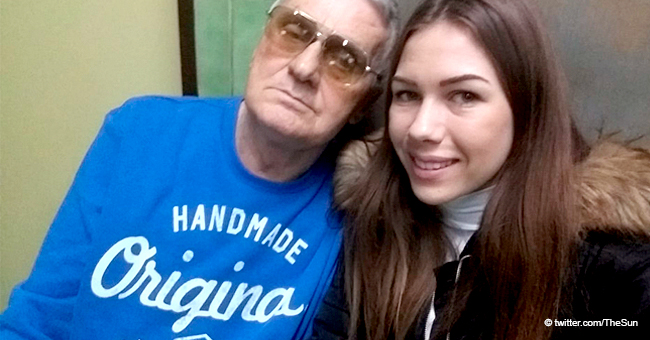 He Doesn't Need Viagra,' 21-Year-Old Woman Talks Intimate Life with 74-Year-Old Fiancé
This unusual pair have become the subject of discussion on numerous media outlets. While it is not rare to find couples with significant age gaps between them, the 53-year age gap between this couple has everyone in awe!
21-year-old Milijana Bogdanovic first met her older lover when he was sick. She was a part of the small Serbia neighborhood who showed care for 74-year-old Milojko Bozic who had suffered heart failure.
Soon after his recovery, the pair became a couple putting their close acquaintances in shock. It is a rather unlikely combination seeing as svelte Milijana is just about starting her adult life while Bozic, on the other hand, has experienced just about everything in life!
Bozic is a father of three children, aged 40, 35 and 30, all products of his first marriage. He disclosed that he also finds the progress of his relationship with Milijana somewhat unexpected because it never occurred to him that he'd ever find someone that could love his old self.
Almost as expected, the couple has faced criticism, but this is no problem for Milijana who never shies away from talking about her love for Bozic. She even excitedly told of how they never have a dull moment in bed!
According to her, Bozic has a very impressive sexual prowess as she explains that they have sex every day without the need for sexual supplements like Viagra!
Milijana:
"We have sex almost every day; I don't see what is strange with that. But since Mikan had his heart operation, I have to go easy on him in bed. But he is like a young man when it comes to sex; he doesn't need Viagra."
It is somewhat hilarious seeing as Bozic's youngest child could be Milijana's parent! The couple is set to marry September 7, so they can raise children of their own.
Looking at the staggering difference between the pair, you'd wonder at what on earth could have gotten them so head over heels in love with each other. Well, it was that they found each other very attractive. For Bozic especially, "younger" is always "sexy."
They are a unique pair but searching the internet for unconventional couples like them turns out with surprising results! A Daily Mail article tells of an 18-year-old lady who became pregnant just a month into her new relationship with her 51-year-old lover! The couple is now engaged and proud parents of two beautiful daughters.
Please fill in your e-mail so we can share with you our top stories!