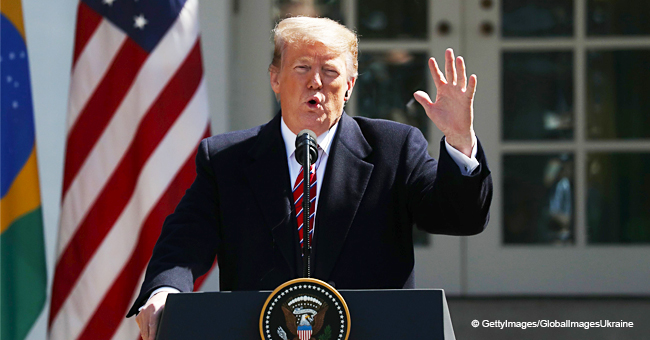 President Donald Trump Breaks Silence after Mueller Report Summary Released
On Sunday, Attorney General William Barr summarized the Special Counsel's report revealing that the Trump administration wasn't found guilty of colluding with Russia during the 2016 election.
President Donald Trump recently spoke to the press in response to the findings. He also took to Twitter to share his thoughts.
In his summarized letter to the US Congress and Senate, Attorney General William Barr shared that the results in the Robert Mueller did not "exonerate" President Donald Trump of obstruction of justice. However, he further explained that the Department of Justice wouldn't be prosecuting him.
The case against Trump alleged that he'd colluded with Russia in order to improve his chances of beating Democrat Hillary Clinton in the elections. Speaking to the press, the president celebrated the news.
He stated:
"So after a long look, after a long investigation, after so many people have been so badly hurt, after not looking at the other side, where a lot of bad things happened, a lot of horrible things happened, a lot of very bad things happened for our country, it was just announced there was no collusion with Russia."
Trump continued:
"The most ridiculous thing I've ever heard. There was no collusion with Russia. There was no obstruction. None whatsoever. And it was a complete and total exoneration."
The president added:
"It's a shame that our country had to go through this. To be honest, it's a shame that your president had to go through this for — before I even got elected it began. It began illegally. And hopefully, somebody's going to look at the other side. This was an illegal take-down that failed."
On Twitter, he also wrote: "No Collusion, No Obstruction, Complete and Total EXONERATION. KEEP AMERICA GREAT!" The president's allies have lauded the results.
In his letter, Barr noted that in terms of obstruction of justice, the Special Counsel "did not draw a conclusion — one way or another" as to whether the president was guilty or not. Even though the Department of Justice won't pursue legal action against Trump, Congress might still look into it.
In response to the findings, the president's son, Donald Trump Jr. took to Twitter to mock House Rep. Adam Schiff who's been vocal about the alleged collusion. Donald Jr. tweeted:
"Has anyone heard from slimy Adam #fullofschiff Schiff today? I mean it must be embarrassing to have have [sic] spent the last 2 years as the leader of the tinfoil hat brigade and have it all come crashing down so quick. I'm legitimately concerned for his mental state."
Please fill in your e-mail so we can share with you our top stories!