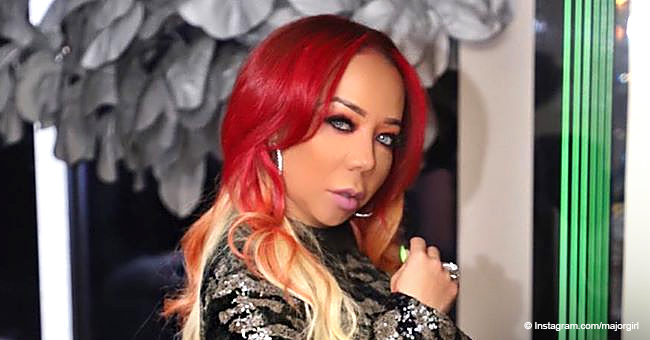 '4yrs Ago Today My Family Suffered a Major Loss,' Tiny Remembers Late Nephew in Heartbreaking Post
Tiny Harris made a heartwarming tribute to her late nephew in a recent Instagram post, four years after his tragic passing. The post comes one month after the Harris family went through another loss when T.I's sister died after a car crash.
Tiny Harris is all about family, and she reminded her fans of that fact by making sure to remember her late nephew four years after his passing.
"Not a day go by we don't think of u & how special you were!!"
The Xscape singer took to Instagram to share a series of pics of Christopher "Popcorn" Tuggle, who was her eldest nephew and sadly passed away after a motorbike accident in 2015.
Tiny posted a pic of Christopher on his graduation day, one of him as a kid sitting on a bed, one with other family members when he was a toddler and one of grown-up Chris posing next to a four-wheel while it was being fixed.
She added a heartfelt message in the caption that read:
"4yrs ago today my family suffered a major lost. My 1st nephew @thomasvillerollin the day after my 1st born was born we lose him to a motorcycle accident. Not a day go by we don't think of u & how special you were!! We will always celebrate u Popcorn... Love & miss u so bad nephew!! U still the man in our family!! Always & forever. #MyFamilysAngelRodeInToHeaven."
Fans of the "Family Hustle" star were quick to send their condolences and praise Tiny for not failing to forget her deceased loved ones. "Sorry for your loss @majorgirl. May he continue to Rest In Paradise," wrote one user.
Another added, "I know this pain all too well. We just lost my little brother to a motorcycle accident last month."
And a third one chimed in to say, "What an honor to continue his memory! May peace always be with you and your family."
It's been only one month since Tiny's sister-in-law, Precious Harris, passed away after being involved in a car crash with her granddaughter Kairi Chapman.
Precious was in critical condition for a few days, as her family asked fans to keep the woman in their prayers. However, she succumbed to her wounds on February 22, leaving her brother T.I, and the rest of the family, utterly heartbroken.
But in true Harris family's style, T.I and Tiny made sure to celebrate Precious life like she would've liked it.
The couple threw a two-day event, which they called a "homegoing," where family, friends and everyone mourning Precious reunited to remember her life, achievements and bright personality.
In a video shared by Tiny, she showed off a venue that was lavishly decorated with flowers, candles, and photos of Precious, where the guests were treated to delicious food and lots of music.
Many of the guests wore red for Precious, who had always been an exuberant woman who loved life. T.I. and Tiny danced to honor her, with both tears and laughter.
Harris said in her caption:
"I didn't play about you when u were living sis & we didn't play with u taking u out of here. U went up the strong way @preciousharris1913 u would of been like Whuuuutt!! I'm a superstar! Your home going just showed how special of an individual u are!! U woulda been proud."
And added: "Shine on sis!! & throw some of that shine down on me!! Till we meet again...R.I.H."
Please fill in your e-mail so we can share with you our top stories!