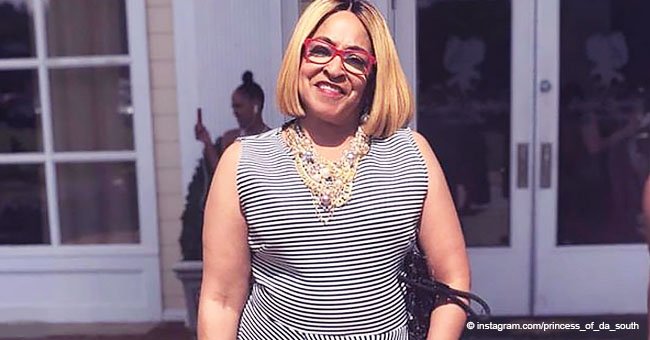 Tiny Harris & T.I. Dance Their Hearts out at Sister Precious' Extraordinary Funeral

Rapper T.I. Harris and his family are mourning the death of his older sister, Precious.
Tiny Harris and her husband T.I. are going through a difficult moment. The rapper's older sister Precious has passed away.
The family and their closest friends have gathered together for the funeral of their beloved relative, and to celebrate her life.
"Nothing but family celebrating my dope a$s sister @preciousharris1913 baby u went out the strong way!! Big popping for you sis!! You were just a contagious person with that thang! I think u passed it down to me! Ya know!!"
THE DEATH OF A BELOVED MOTHER AND SISTER
Precious Harris, 66, passed away on February 22, 2019, was in a car crash with her granddaughter, Kairi Chapman, on February 13.
According to Kairi, her grandmother had an asthma attack while driving and lost consciousness. As a result, she veered off the road and hit a telephone pole.
In order to pay tribute to his sister, T.I decided to hold a two-day event
TAKEN TO HOSPITAL IN CRITICAL CONDITION
Precious was taken to Grady Memorial Hospital hospital in Atlanta by paramedics, and Kairi was examined after complaining of chest pains. Kairi was later considered to be in good health and released. Precious succumbed to her injuries and passed away a week later.
PRECIOUS' DEATH HITS FAMILY HARD
In order to pay tribute to his sister, T.I decided to hold a two-day event encompassing Precious' funeral and bringing together all the people who loved and cherished her.
AN EXTRAORDINARY GOODBYE FOR PRECIOUS
The event which he called a "homegoing," was lavishly decorated with flowers and photos of Precious, and the guests were treated to delicious food and lots of music.
Many of the guests wore red for Precious, who had always been an exuberant woman who loved life. T.I. and Tiny danced to honor her, with both tears and laugher.
R.I.P Precious Harris.
FANS SHOCKED BY T.I. HARRIS' CELEBRATION
Some of T.I. Harris' fans have reacted with shock and anger to the celebration the rapper and his family held to commemorate the life of his sister Precious Harris.
'I think your live was so disrespectful people are genuinely hurt by your loss and it's like you were saying you don't need our condolences because y'all good over there we know your going to be good but damn you introduced Precious to the world so how you think we're not going to feel sad about her passing."
The fans were offended by the event the family held after the funeral in which food was served, music was played and the guests danced. Many felt the exuberance of the event was disrespectful, and hurtful for those who were mourning the loss of a beloved family member.
In a related story, model and actress, Kim Porter was laid to rest in
her hometown of Columbus, Georgia, on Saturday morning in a star-studded funeral
Please fill in your e-mail so we can share with you our top stories!