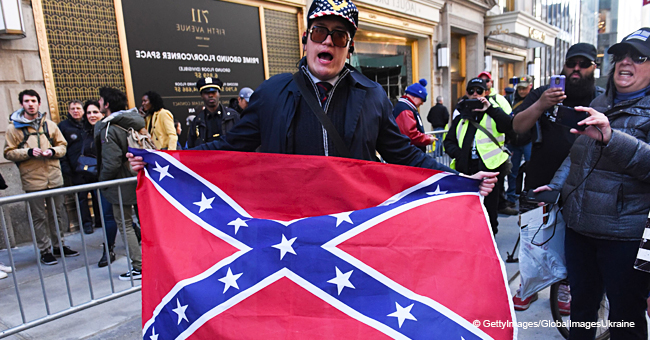 Trump Supporters Gather outside Trump Tower in NY to Celebrate at 'Happy No Collusion Day' Rally

Hundreds of Trump supporters celebrated "Happy No Collusion Day," one day after Mueller completed his report. Many of them held "Make America Great Again" cards and sported Melina Trump inspired jackets that said, "I really don't care, do you?"
Last Saturday, a celebration was held outside New York City's Trump Tower as hundreds of Trump supporters joined in a rally. They celebrated "Happy No Collusion Day" as Robert Mueller's Russia probe came to a close. A 2-hour long clip of the event was uploaded on YouTube, showing different supporters giving different speeches.
YouTube users also commented on the video, showing their support for the president's victory. One comment read,
"Oh Wow! This is in New York?! Yessss. Hopefully folks are starting to take a stand and really speak out love it"

Youtube/TrueConservativeMinutes
While another said,
"Love all my TRUMP supporters in New York, thank you!!!! TRUMP TRIUMPH 2020"

Youtube/TrueConservativeMinutes
President Donald Trump's supporters gathered as a means to congratulate him and his administration for dodging the accusations thrown at them. The participants held up cardboard signs which read, "America Will Never Be A Socialist Country" and wore caps that read, "Make America Great Again."
The different props in support of the Trump administration were waved in the air in celebraion, including massive signs that read "TRUMP 2020" and "Happy No Collusion Day!" Posters with illustrations of Barack Obama, Hillary Clinton, Chuck Schumer and Nancy Pelosi drowning were also a sight to see in the rally.
All this happened only after a day the two-year long investigation regarding the Special Counsel Robert Muller's Russian collusion in the 2016 election ended.
Last Sunday, the Justice Department gave the Mueller report findings to the Senate Judiciary Committee stating,
"The investigation did not establish that members of the Trump campaign conspired or coordinated with the Russian government."
According to a senior Justice Department official, Mueller has no new criminal indictments, nor will there be any indictments filed with federal courts.
The whole issue began when the Trump campaign was accused of colluding with Russia during the 2016 elections. Trump's son, Donald Trump Jr., even attacked those who were against his father in the investigation.
Rudy Giuliani, Trump's lawyer, deemed the investigation "bad" for the country. He said,
"It's a very bad thing for the country that we had it because it's not true. It never should have happened in the first place."
The attorney added,
"It should have stopped with the indictment of the Russians when there was no American they conspired with."
Please fill in your e-mail so we can share with you our top stories!