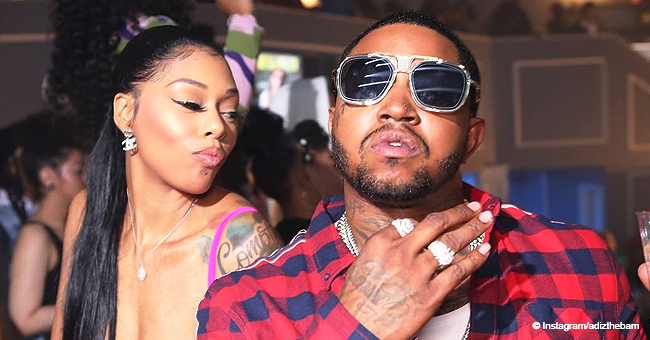 Lil Scrappy & Bambi Throw 'Boss Baby Breland' Themed Party for Their Son on His 6-Month Birthday
Lil' Scrappy and wife Bambi Benson are whipped for their son, Breland Richardson, and they went all out to celebrate the boy's 6-month anniversary. The couple threw a Boss Baby-themed party, but Breland had different plans for his celebration.
The "Love & Hip Hop: Atlanta" stars are still on cloud nine after welcoming their first son back in September, and every occasion is an excellent time to celebrate their baby boy.
On Sunday, Bambi and Scrappy threw a Boss Baby-themed party to commemorate their son's 6-months of life. Benson, Scrappy explained, was the one who came up with the idea of the party, and she outdid herself.
Both parents shared photos and videos of the celebration on Instagram, showing off a table with different types of sweet treats, including some apples, cupcakes, and donuts, which were aptly decorated to go with the festive theme. There was also a cake, and a big sign that read "Happy 6 months, Boss Baby Breland."
The boy donned a white shirt, black vest and matching pants for the occasion, but at the time of taking his pics on his baby chair, he dozed off on top of it, completely ignoring the cake and the milk bottle and donut that were in front of him.
"#BossBabyBreland Happy 6 months. You are such a blessing. The more you celebrate your blessings, the more blessings you'll receive," Benson captioned one of her posts.
Scrappy, on the other hand, shared an adorable pic of Breland playing with some fake money, and added in his caption:
"Gods gift and I will always and forever be thankful, by teaching him right and raising him to be a smart, brilliant, strong and God-fearing man with that being first, I'll spend time and money with this God-given blessing @princebreland #6monthGday #BossBaby."
Fans couldn't stop gushing about the party and Breland's cuteness, and they filled the couple's comment section with lovely words for their family. "He only 6months you threw a whole birthday party. I'm going to be this EXTRA as a Parent too," wrote one user.
Another added, "Boss baby milk wasted. Too cute! Happy 6 months. Oh and great job mommy and daddy! Blessings!!!"
And a third one pointed out: "He is such a handsome baby...Happy 6 months prince Breland."
Breland, like many other celebrity babies, has been living his best life even though he won't remember his first months of life.
At such a young age, he's already donning diamond studded necklaces, high-end fashion brands like Gucci, and he already made his first trip abroad to Trinidad and Tobago.
"Me and my lil manz @princebreland kickin it in Trinidad, he's biting my arm tho lol, he's 5months and already putting his feet in foreign sand," Lil Scrappy captioned an Instagram pic with Breland for their family trip to the tropical land.
Although Scrappy seems to be whipped by the boy, Breland is not his only child. He also shares teenage daughter Emani, whom he shares with former flame Erica Dixon.
The girl, who loves being a big sister, will soon be welcoming more siblings in her life, as Dixon recently revealed she's expecting twin girls, a product of an unexpected, but blessed pregnancy.
Please fill in your e-mail so we can share with you our top stories!